This article will show you how to configure learner completion settings on assignments
Assignments give admins the capability to pose a question or task to learners who have to submit an entry against the assignment. The assignment can then be graded as pass/ fail/ try again by the Admin who will also leave feedback as a comment for the learner. You can read more about it here.
This article is going to specifically cover how you can configure the completion settings of assignments for your learners.
Step 1: Create an assignment
You can create an assignment by clicking the dropdown right next to 'Create a Lesson'.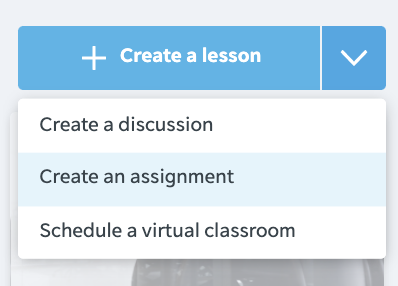 Step 2: Name the assignment and enter the assignment task
The assignment task will guide the learners on the topic they will be writing about and how best to approach the question.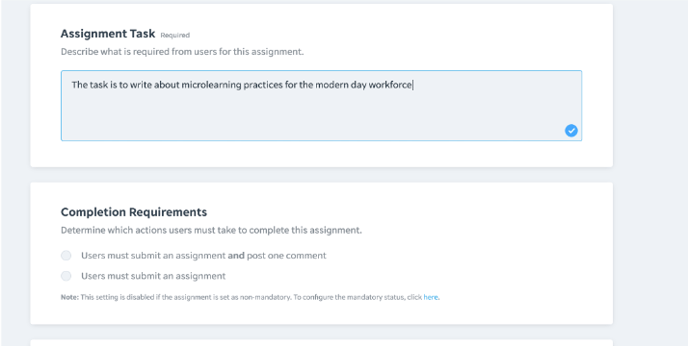 Step 3: Configuring completion requirements
The completion requirements include:
- User must submit an assignment and post one comment
- User must submit an assignment
The course will be completed only if learner has completed the assignment by achieving the completion requirement.

Step 4: Decide if you want the assignment to be mandatory or non-mandatory
By default, the assignment will be mandatory if not specified otherwise in the "course requirements section" of the course settings (under the "completions" tab).
If admin would like assignment to be mandatory:
If you want the assignment to be mandatory please select the completion requirement in the second part of the assignment tab and you are all good to go.
If admin would like the assignment to be optional:
Click the link underneath the completion requirements which will redirect to the course completion settings.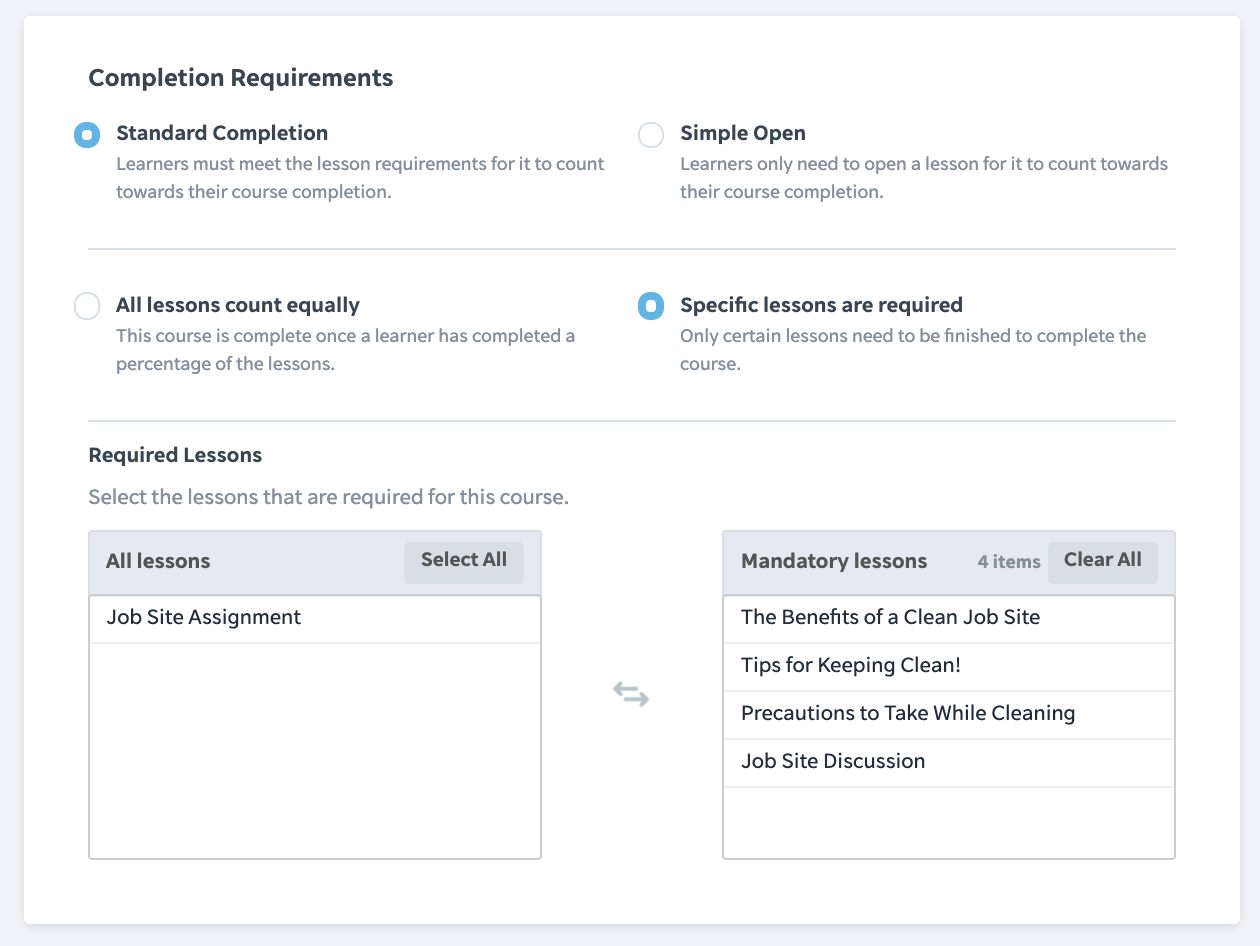 Under the completion requirements, admins can select "specific lessons are required"
You will be able to see all lesson in the course are now under the "All lessons" table on the left-hand side.
Everything on the left-hand side "All lessons" table will be optional. So if an assignment is in the "All lessons" table, the assignment will be optional.
If you would like the lessons in your course to still be mandatory to complete the course then please move them over to the "mandatory lesson" side.
*Useful to note – all lessons created after this will automatically fall into the 'all lessons' side, so please move them to the 'mandatory lessons' side if you would like them to be mandatory for completion.
Once you are done with the steps above you are all set to publish your assignment ready for your learners to take. If you want to see how this will look for a learner, you can see this learner guide to assignments.