This article will summarize what the instructor role consists of and what instructors can do in the Admin portal.
The instructor role is linked to social learning, discussions and assignments. It was created in order to give Admins the flexibility to have another person help out with managing the comments and submissions on the features in the 'Peer Learning' tab. Instructors will have access to only these three features when they log in to the Admin portal.

Instructors will be able to carry out the following actions:
Post, comment or give feedback
Edit/delete their own comment
Delete learner posts or comments
Actions that Admins can do but instructors cannot:
Configure social learning, discussions or assignments
Delete other instructor or admin comments
Once an instructor clicks on 'social learning', 'discussions' or 'assignments' they will see a very similar layout to the admin portal that the Admin sees for that specific feature.

When the instructor leaves a comment, this will also appear in a darker color for user clarity.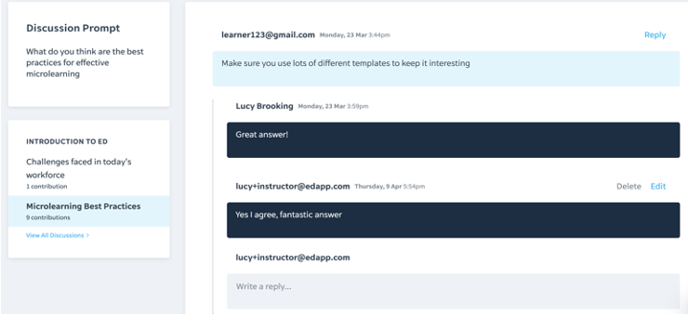 Instructors can also comment from their learner's app as an instructor but can carry out no other actions, this would all be available on the Admin portal.
Using this role is a very useful way for Admins to have help with these features whilst not letting the instructor have access to all the Admin side of the platform.
In order to configure this permission, the Admin needs to go to the user's profile in the 'Users' section of the 'Users' tab. The Admin can scroll down on the chosen users profile and tick the instructor permission.