This article will indicate what settings are available in the 'Access Rules' tab of the lesson configurations.
Admins have the ability to carry out a number of actions on the access rules segment of a lesson:
1. Determine the dates that the course can be accessed – the lesson will not disappear from the learner' app, the learner will see a lock symbol on the content and will not be able to access this outside of the selected dates.
2. Set a course as mandatory - the learner will see an icon on the corner of their course telling them the date that the course is due to be completed. If the course is still not completed by this date, the icon will change to say 'Overdue' in a red bubble.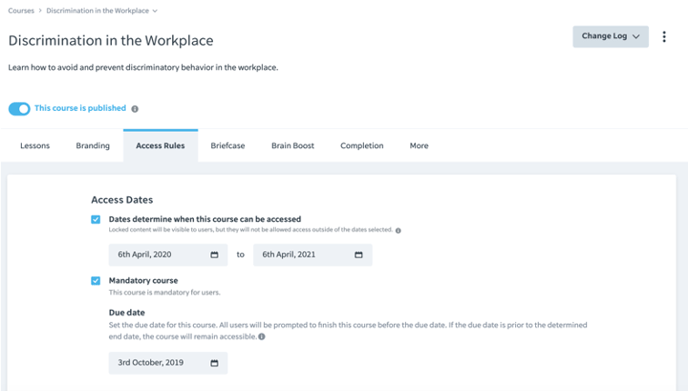 3. Prerequisites – users must complete a course/ courses before they have access to this course. The user will see a small lock symbol on the content until they have completed the prerequisite material. They will also have a prompt of what is required for them to unlock this course. Anything in the right table will be a perquisite to the course that the Admin is configuring.

4. Share this lesson – Admins can tick this box to activate the URL provided next to the box and share the link with others.
*Useful to note – this is a preview of the lesson so analytics will not be taken for this lesson through the link.