Playlists is an addition to our platform enables dedicated learning pathways by guiding learners through courseware in a sequenced order. Playlists are highly powerful and guarantee higher success rates across learning programs, with added guidance and organisation.
To learn more why we built it and how it will enhance your L&D strategy, click here. Otherwise, read on for our comprehensive guide on how to use Playlists within EdApp.
1. Admin LMS
Creating your Playlist

Within the Admin LMS, navigate to 'Playlists' under the 'Courseware' dropdown. After selecting 'Playlists', this will then take you to the 'Playlists' landing page. From there, simply click on the '+ Create a playlist' button to get started.

Next, add your desired Playlist title along with a description like you would for any other content creation within the platform. We suggest something descriptive and clear to keep your Playlists organised for easy access later on.
Adding courseware
To add courses to your Playlists, select the '+ Add courses to this playlist' button. All of your courses within your account will then pop up, where you can select any courses you would like to include. Note that the blue number reflected on your course will appear in the order that you select your courses. From a learner's perspective, their courses will also be presented in the same sequence.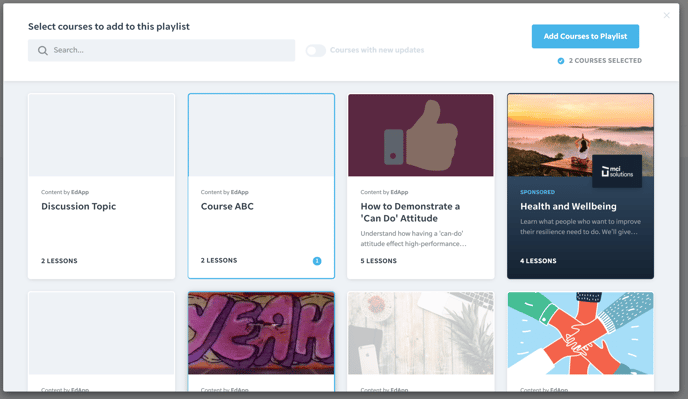 Don't worry – courses can also be shuffled and rearranged by dragging and dropping the content after the fact. It should be noted that if you wish to delete courseware from your playlist at any point, this can also be achieved in one step by selecting the bin icon.
Furthermore, courses can be added to the Playlist as a draft, where they won't display for your learners until the course is published.
To see how to create Playlists in multiple languages, click here.
Enrolling your learners
One of the most exciting parts of the Playlists feature is the ability to select which user group(s) you would like to be enrolled in which Playlist(s). This is done under the 'Enrolment' tab within your Playlist. There, you can add as many user groups as you like.
Branding your Playlist
Next, ensure your branding is reflected in your Playlist under the 'Branding' tab. Like authoring lessons, this section can be customized by uploading a cover image along with uploading your text color.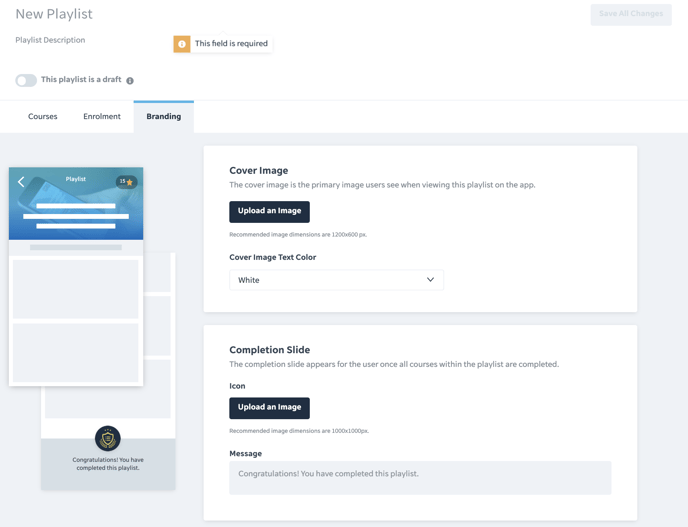 Along with the cover image and text, you also have the option to upload a completion image. This acts as a clear, visual indicator for your learners when they complete a Playlist. Once this step is completed, ensure that you press the 'Save' button to save your work and continue on.
After ensuring all the details are complete, your Playlist is ready to be published. This is done by switching the toggle from 'draft' to 'published'.
2. Learners' App
Accessing Playlists
From a learners' perspective, once they have logged in, their Playlists will be visible at the top of their homepage. This makes it as easy and clear as possible for them to access the courseware.
Once the Playlist is selected, courses will automatically display as you (the Admin) have arranged them, guiding your learners through the content every step of the way. All learners have to do is select the 'Play' button to get started.
If a learner navigates away from any given Playlist while they are progressing through courses, a 'Resume' button can be found once they return to the Playlist screen, which will take them to the next piece of learning content.
Once a Playlist is completed, a completion icon will be displayed for the learner to let them know along with a visual indication that it has been completed on the learners' homepage.
We hope you enjoy the Playlists feature and it contributes to even better learning experiences, enhancing your L&D strategy even further.