General

What are Practical Assessments?
A checklist-style feature in which admins or facilitators can start in-person assessments using a custom checklist form to capture the learner's performance.

What does a Practical Assessment look like in EdApp?
Practical Assessments appear as a type of lesson within a course.

Are Practical Assessments mandatory for learners to complete?
Like any lesson, Practical Assessments can be made mandatory or optional for course completion. You can configure mandatory lessons for any course by clicking Course Settings → Completion.

Who is able to see my Practical Assessments?
Practical Assessments function like any other lesson type. All learners assigned to the course will be assigned the Practical Assessment.

Who can complete Practical Assessments?
Any user with an Admin or Facilitator role will be able to complete assessments for learners. Users without these roles will be denied access.

Will facilitators only be able to perform Practical Assessments for particular user groups?
There will be no restrictions, any user with the Admin or Facilitator role will have access to all practical assessments created.

Will learners be able to retake Practical Assessments?
Once the learner has passed the practical assessment it will be marked as complete and they will not be able to attempt it again.

Will learners be able to view the full results of their Practical Assessment attempt?
Yes, by default all learners will have access to view the completed assessment form. This setting can be turned off by an Admin or Author in the following way.
Click into a Practical assessment lesson.
In the top-right corner click 'Practical assessment settings' and deselect 'Learners can view completed checklist'. the lesson type 'Practical Assessment'.

Will Practical Assessments appear in analytics?
Yes, practical assessment lessons will appear in exactly the same way as any other lesson. At lesson-level reporting, you will see –
Lesson title

Completion (100 for pass and 0 for fail)

Completion date

How does scoring work for Practical Assessment lessons?
Slide level analytics, including scoring are not available at the stage.

Will a facilitator be able to upload photos and videos to a Practical Assessment?
Yes, images can be uploaded and we will support video upload in the near future.

Can Practical Assessments be translated in other languages?
Yes, if a course containing a practical assessment lesson is translated to another language the practical assessment lesson will be translated.

Will a facilitator be able to perform a Practical Assessment offline?
The practical assessment is accessed online via admin.edapp.com. Once the practical assessment form has loaded, the facilitator could fill out the form offline. However, the facilitator would need to be online again in order to Save or Submit the assessment.
Admin

How do I set up a Practical Assessment?
Click into a course.
Click 'Create lesson' and select the lesson type 'Practical Assessment'.
In the top-right corner, click 'Edit content'.
Drag and drop form fields from the left-hand panel to create your assessment form. Upon dragging a form field onto the canvas, you'll be prompted to configure settings and data for that field.
Hit 'Save form' to save changes.
When you're done creating your assessment form, navigate back to the practical assessment lesson page to preview your form on mobile, tablet and desktop.
Publish your practical assessment.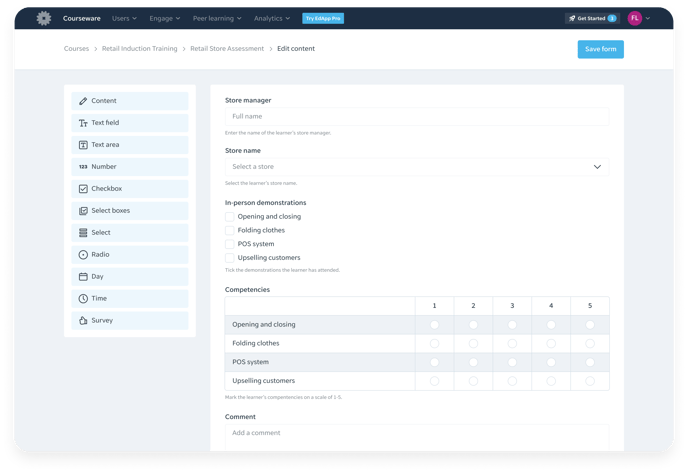 What do Practical Assessments look like for facilitators?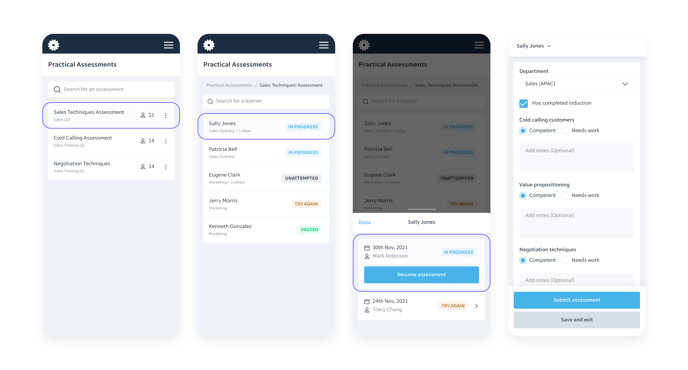 Facilitators and admins will be able to browse practical assessments by navigating to the menu item Facilitate → Practical Assessments. Here you can view a list of published assessments and the learners assigned to each. Facilitators and admins can then complete assessments for any learner.
Alternatively, facilitators and admins can scan the QR code provided on the learner's assessment screen to begin the assessment. e
Learner

What do Practical Assessments look like for learners?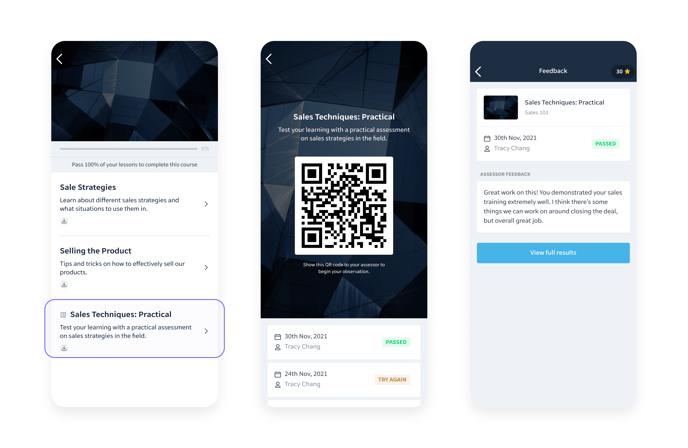 Practical Assessments appear within a course's lesson list. Clicking onto an assessment will display a QR code that facilitators and admins can scan to begin the assessment.
Learners are able to view all completed attempts at an assessment and review feedback. Learners are also optionally able to click View full results to generate a PDF of their completed assessment form.

Why can't I view my completed assessment form?
Your admin may have disabled this function for you, however you will always be able to view the overall comment left by your facilitator on any given assessment.