Share your course for review with others either inside your organization or externally.
What is Course Reviewing?
You can invite others to review your course and they can provide feedback on any slides or lessons within it. They can make comments and respond to other comments whilst viewing your course online.
Note: Course Reviewing is only available on paid plans. See our pricing here: https://www.edapp.com/pricing/
Access Course Reviewing / Share for Review
Any users with the Admin or Author roles can also invite others to review a course.
Click into a course.

Click 'Share' and then 'For Review', and you'll see the course open in a new tab.

Select 'Share', and enter the email address/es of those you'd like to invite (you can also invite a non-existing Edapp user/account holder).




An invitation containing a button link to review the course will be sent once you hit the "Send invite" button.
Accessing as a Reviewer
The image below is what an invited Course-Reviewer sees on the email invite.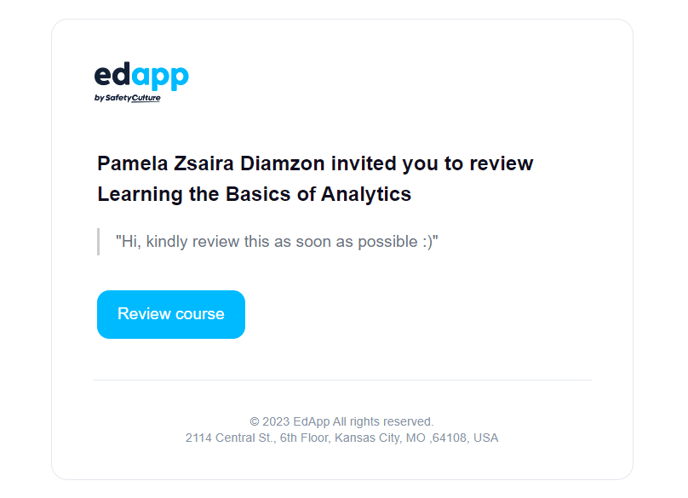 Anyone invited to review the course will receive an email.
Open your invitation email.

Click 'Review', and you'll be prompted to enter a Display Name and a password to access the Review. If you are an existing EdAapp user, you will be prompted to log in.




The course review page will open and you will be able to leave comments.

Once you have finished reviewing the course you can select 'I'm done' or simply close the browser. All changes will be automatically saved.

In the event that the invited course reviewer does not register their account, email links will expire after a period of 7 days.
Can course reviewers still review the course even after clicking "I'm Done" and "Complete Review"?
Yes. Invited Course Reviewers will still be able to do as many reviews on the course as they need even after they click "I'm done" and "Complete Review".

How can I tell who has access to review a course?
Any users with the Admin or Author role can select 'Share' from within a Course Review and will see a list of all invited Reviewers.
Do I need to set up a special role or permissions?
This is done automatically when someone is invited to review a course. They will only have Course Reviewer access to those courses they have been invited to.
What courses can be reviewed?
Any draft or published course can be shared for review.
Once a course reviewer has registered their account, either by clicking on a course review email button link or by already having an existing account, the course review email link will remain functional indefinitely.