This article will summarise how to duplicate a course within the LMS.
Duplicating a course can be very helpful for if you need to make some changes on a course, but want to keep and original version of it for reference. It is also helpful if you need to make multiple versions of the same course for different user groups.
Option 1
You can duplicate the course straight from the course card with the 'duplicate' button. Just select the three dots on the top right hand corner of the course to open the two icons to delete and duplicate the course. Look for the button that looks like two pieces of paper!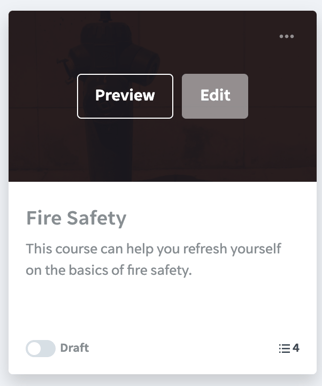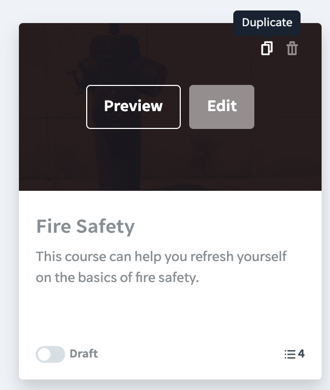 Option 2
Step 1: In order to copy your course, first you need to choose which course collection it will be moved into or a new course collection will need to be created.
Course collections can be created on the "courses" page on the dropdown menu on the "create a course" button.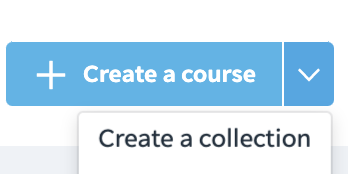 Name your collection and you can also give it some branding on the "branding" tab if you wish to. We recommend doing so if users will be seeing the duplicated version of the course.
Step 2: Once your course collection is set up, navigate to the course you want to copy and go to "Course settings" and then the "More" tab.

Step 3: Use the drop down menu to choose which course collection you would like to copy the course to and click "Copy".

Step 4: You will receive a pop-up that informs you that the course has been successfully copied, you can then go straight to that course by clicking "View Course"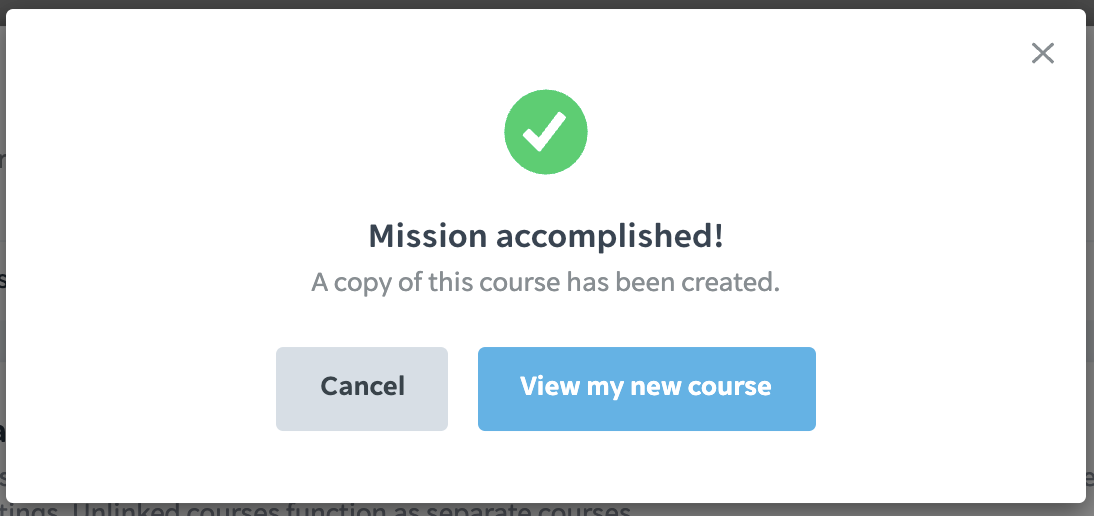 Your course will now be copied!
*Useful to Note - The new version of the course will automatically be put on draft in your account in order to allow admins to configure it properly before it is available to users.
It is useful to ensure you configure the "access rules" on this new course before publishing it so that only the users who need access to it will be able to take the course.
The access for copied courses will automatically be set to "universal access".
You will need to rename the new version of the course to be different to the original for reporting purposes. If this is not done, it will be very difficult to determine which course is which in the analytics suite.
Any briefcase documentation that was on the original course will also copy to the new version of the course.
Discussions, Assignments and Virtual Classrooms will not be copied over with the course.
If the course was a translated course with links to other translated course, it will be unlinked when it is copied.
The prerequisites will not be copied over in the new version of the course.