How To Play Gift Grab
The gift-grab game allows you to use your earned stars to win a prize.
First things first you'll need some stars in the bank to play the game, if you don't have any you'll see a greyed out option like below until you've earned enough to have a go.
You can see your stars in My Profile - access it via the bottom navigation bar (on mobile) or by clicking on the avatar at the top right (on web).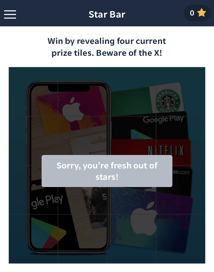 Once you've collected enough stars, you'll now be able to play! You'll note the tiles in the pictures (see below), all you need to do is match 4 tiles to win, easy right?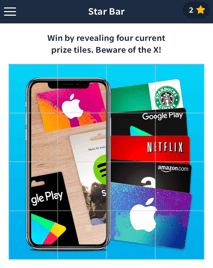 You'll see three different tile types, and each has a different role to play, so what do they all mean? If you reveal a Bonus tile, your game will continue and you'll be prompted to choose another tile, if you reveal a prize, you'll need to find another 3 to match and win, if you reveal the X, unfortunately you've lost and the game will end (see below).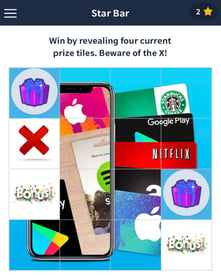 If you win on the other hand, you'll be redirected to claim your prize.
Good luck!