Importing a course from the course library can be done in these easy steps.
The Course Library contains a growing list of fully editable content designed to help authors rapidly create and deploy content on a range of topics. This article covers how to access the Course Library and import content from it.
The courseware within the Course Library can be utilised as a template to build upon, or simply as inspiration, to visualise different ways our team have interpreted some concept, interactive and game templates available.
Finding the Course Library
When an Admin or author wants to create some new microlearning courseware, this will be done under the 'Courses' tab on admin.edapp.com.
From here, Admins can also import courseware into their account from our Course Library. Admins need to click on the 'Course Library' button under the 'Content' tab. Once clicked, this will open our Course Library that is packed with useful courseware.

Once you have opened the Course Library, you will see there are many category sections in the Course Library that allows you to search more efficiently. You can see these segmented by industry along the left-hand side of the screen.
The Course Library has a search functionality for ease of use. New content is being added to it regularly and additional functionality will soon be available!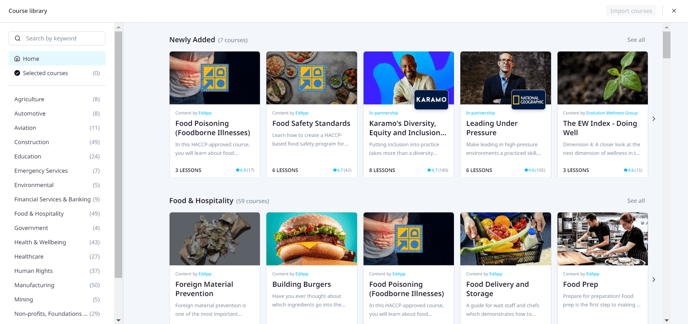 Previewing the courses
When you hover over a course, you can choose to preview the content before putting it into your account.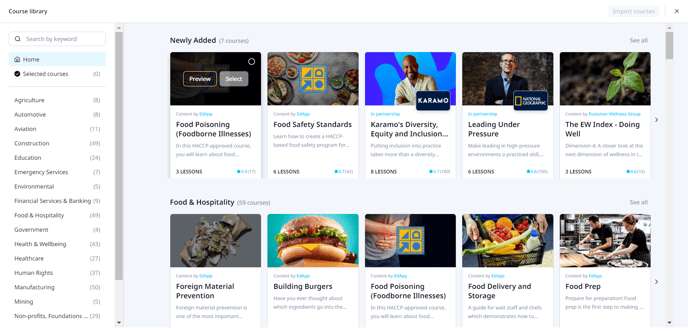 Once you click on the preview button, you will be able to see the lessons that are in the course, which you can toggle through to see the content. You also can see who made the content, its rating from learners and a short description. Additionally, you can use the device toggle (next to the "add to selection" button) in order to see how the course would look on different devices.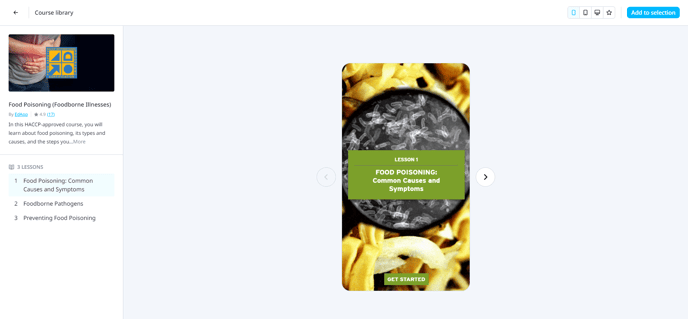 Importing courses from the library
Admins simply need to click on the courses they would like to import (multiple courses can be imported at the same time) and then click 'Import Selected Courses'. These courses can be used in a learning program if the Admin/Author wishes to do so and customised to meet specific requirements.