This article will guide you as a learner through using our leaderboard functionality
Leaderboards offer a new way for you to track activity individually and in your user group.
You can earn a maximum of 100 points per lesson and the more interactions you get right, the more points you will get.
If you attempt a lesson multiple times, only the highest score will be counted towards your leaderboards.
For example; if you take the lesson once and earn 60 points this will be moved to the currently running leaderboard. If you then re-take the lesson (while the leaderboard is running) and earn 100 points, your 60 points will be replaced with 100 points.
Leaderboards do not back date any scores, the only scores that will count towards your leaderboard are ones that you earn during the time the leaderboard is running.
You can find your leaderboards by heading to the leaderboards section of your app from the menu.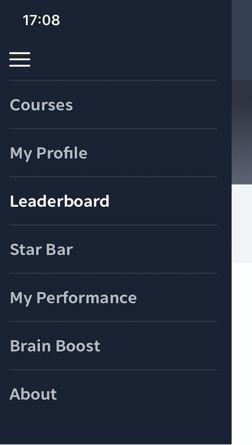 Once you reach this page you can see all the leaderboards you have access to.
You can click on a leaderboard to see where you stand on the leaderboard. If you do not have a first name and last name on your user profile, it will show as your email address. To update your user profile with your first name and last name, you will need to reach out to the admin of your learning programme.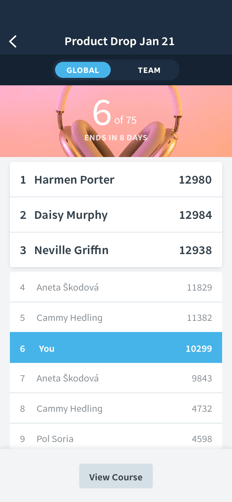 You can toggle between different leaderboards by going back one step and clicking on a different leaderboard.
Your 'global' leaderboard will show your individual performance, whereas your 'team' leaderboard will show your contribution to the group you belong to. This view is only applicable to Rapid Refresh or Course leaderboards.