Brain Boost is a daily quiz for learners to help them retain information better.
Learning something once, and then never returning to the information, has negative consequence of the information being retained in a learner's memory.
Spaced Repetition is a method of practicing repeat learning over time. The benefits of this include stronger memory formation due to principles of forgetting and receiving.

Our Spaced Repetition feature uses an adaptive, dynamic quiz that's based upon the SM-2 learning algorithm to help your learners better retain information and increase engagement.
Brain Boost asks different questions to establish what a learner remembers and what they don't. The more they get right, the less frequently they'll need to be tested.
If the quiz shows that a learner is struggling with the retention of some topics more than others, they will be quizzed more frequently on those topics than ones they are comfortable with.
The algorithm incorporates increasing intervals of time between subsequent review of interactive slides which were included in completed lessons by the learner. This game can be played once daily. To ensure a consistent experience for each learner, Brain Boost takes approximately the same amount of time everyday.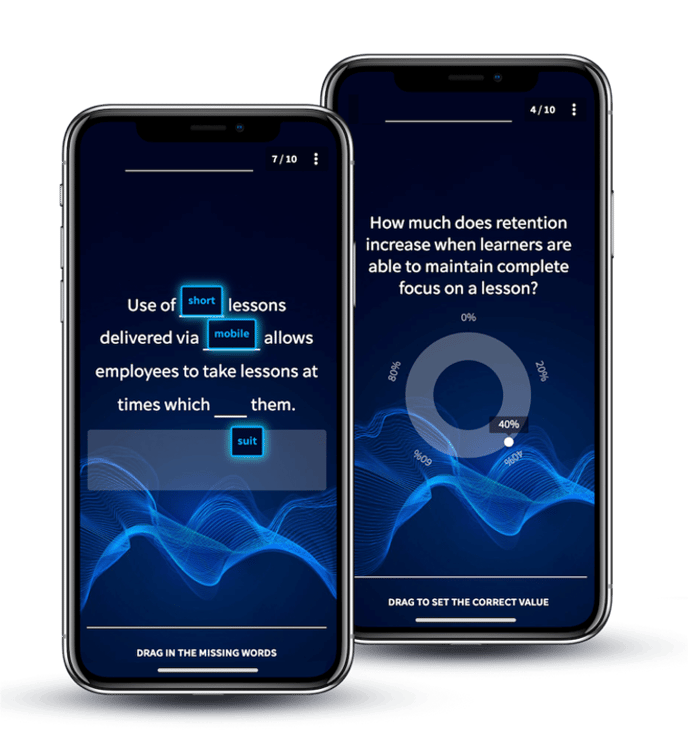 Spaced Repetition is first enabled on an account level, and then a course/lesson/slide level. The configuration button is in 'App Settings' under the 'More' tab and on the course and lesson settings page. Admins will just need to tick the box to 'Enable Brain Boost'.

The admins will then go to the Brain Boost tab on their course and tick the box to 'Enable Brain Boost for this course'. The admin can then select the slides they want to partake in the Brain Boost quiz.
*Useful to note – make sure questions have context in them as they will be taken from multiple lessons and will be mixed together.
When Admins select the slides that they want to participate in Brain Boost, we extract these slides from a learner's completed lessons, and they are then added to the learner's Brain Boost slide deck to curate a lesson. A learner must have completed a minimum of 40 questions for Brain Boost to be applied.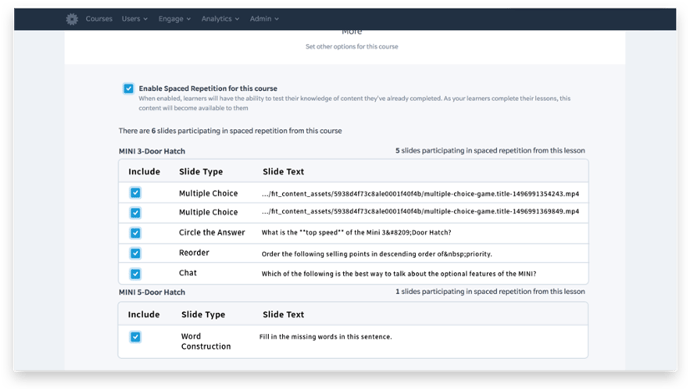 For every slide of this deck, we compute the next date at which it will be shown to the learner. This date is based on the history of the learner's answers.