Custom Splash Screen
This article will outline what a custom splash screen is and how to configure it within the app settings.
Customising the splash screen for your users is the perfect way to add another layer of branding to the user experience. The main aim behind this is to design a welcome experience that keeps users engaged and intrigued by what's to come, as we believe that first impressions definitely count.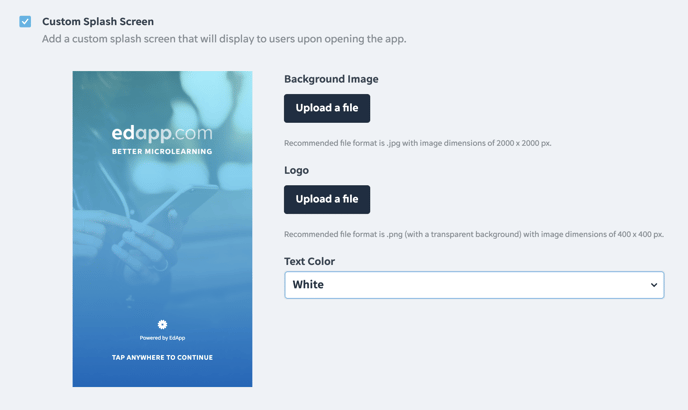 To configure, go into 'App Settings' and onto the 'Content' tab, scroll down to find 'Custom Splash Screen'. Here you can upload a background image and a logo. You can also change the text colour to suit the background you have chosen.
*Useful to note – the splash screen will remain as the default EdApp screen unless changed.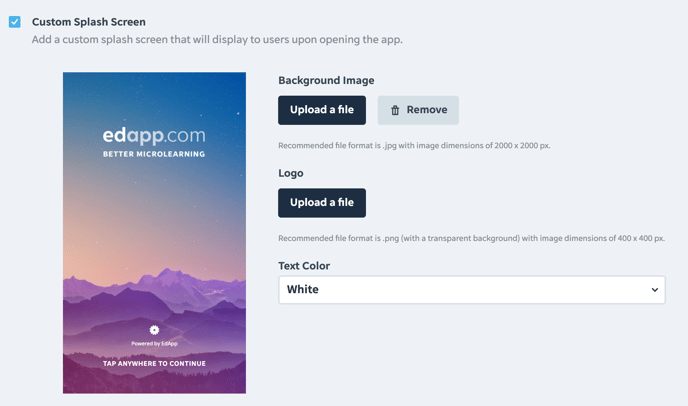 The splash screen will be presented to the user:
Web Version – Once configured by the Admin, the user will not see the splash screen on the first time they logged in. They will start to see the screen from the 2nd time the user logs in and the splash screen will show to the user once every 24 hours.
App Version - Once configured by the Admin, the splash screen will only show on a cold launch. A cold launch is when the app is closed so it is not running in the background of a user's phone.