Lessons Configuration - Completion Tab
This article will indicate what settings are available in the 'Completion' tab of the lesson configurations.
The 'Completions' tab allows Admins to configure what is required for learners to carry out in order to complete the lesson: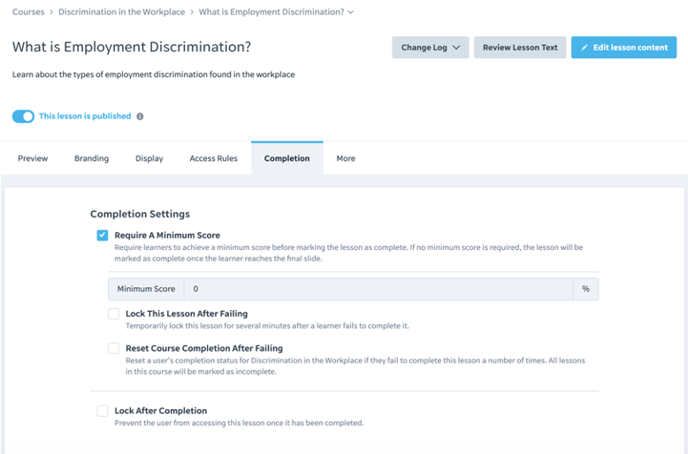 1. Require a minimum score - this means that the learner will need to reach the score that has been specified by the admin or author in this section. In the example below, the user will have to get 80% to pass the quiz

Within this setting you can also choose to lock this lesson after failing this will lock the lesson for a set amount of time in order to give them time to go away and think about their answers before retaking the quiz.

You can also reset course completion after failing. This would mean that if you included other lessons in the course with the quiz, the learner will have a set number of attempts to pass the quiz, or they will need to do the whole course again.

2. Lock after completion - you can lock the quiz after the user has completed it, so they cannot access it again. This is a useful feature if you want to see a leaner's first score only on the quiz.