This article will guide Admin users step-by-step on how to configure SSO using Google
Single Sign On (SSO) is a great way to further simplify the EdApp login process for your learners. SSO is a process where learners can sign in to EdApp using the credentials that are used to access their own organization's portals, so that there's no need for the learner to keep track of separate credentials for their EdApp accounts.
Configuring SSO for your EdApp training program using Google is straightforward, and can be done in as little as 15 minutes.
If you'd like domain recognition enabled for SSO, please reach out to us via live chat or your EdApp program manager - we would be happy to help.
Configure SSO in Google
First, let's start with setting up SSO in Google (we'll move on to setting this up in EdApp once this part is completed).
Step 1: Sign in to the Google Admin portal using your Google administrator account. Browse to Apps --> Web and Mobile Apps in the left hand menu.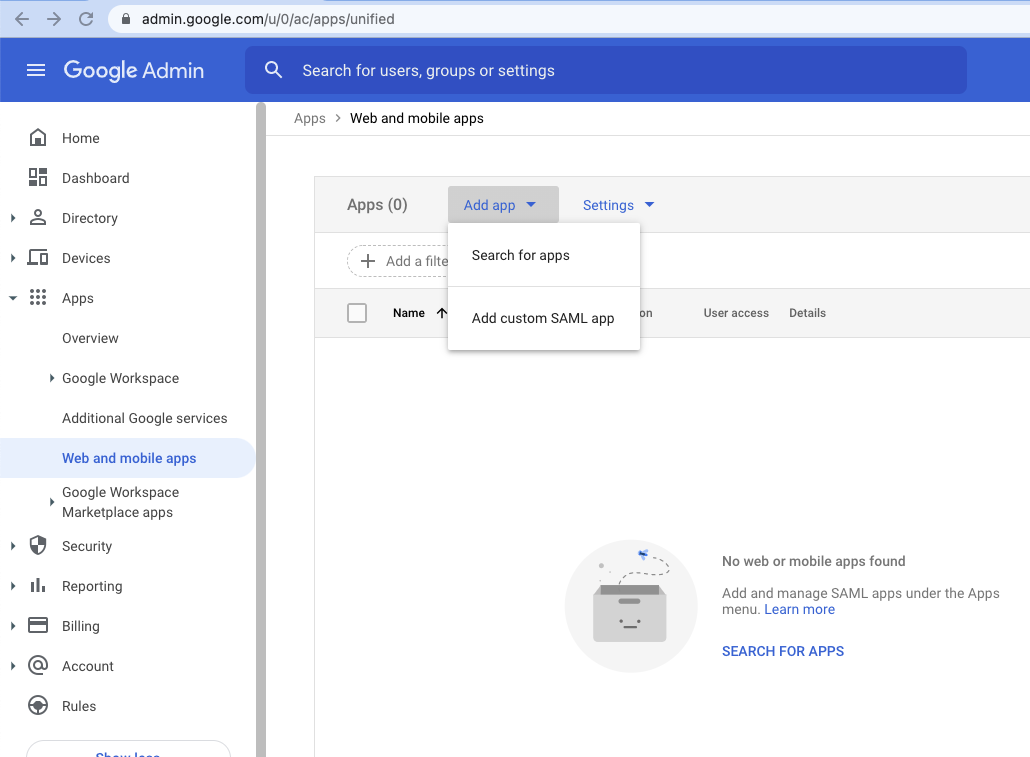 Step 2:
Click the Add custom SAML app and fill in "EdApp" as the application name
Upload the EdApp icon. This can be found here: EdApp icon
Select Continue.
Step 3: Copy the SSO URL for future reference when setting up the EdApp part and download the certificate. Click Continue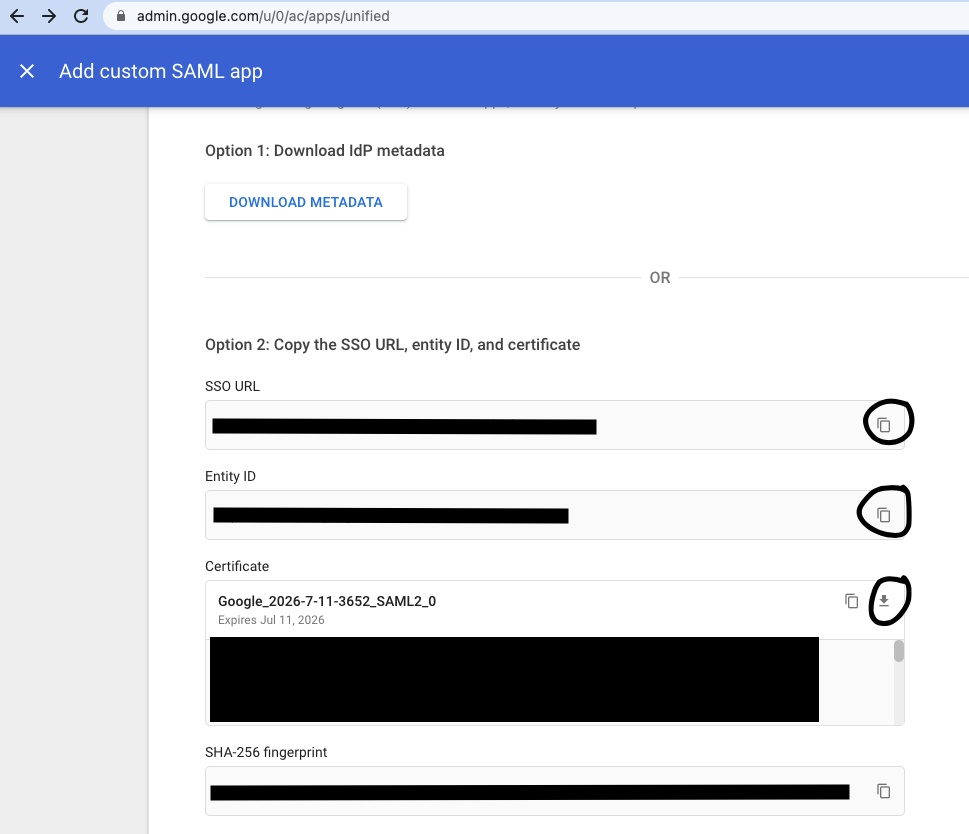 Step 4:
Fill in ACS URL with

https://api.edapp.com/sso-saml-callback/<yourcompany>

where

<yourcompany>

is an easy to remember identifier related to your company. Your learners will use this to to login.

Fill in https://edapp.com/<yourcompany> for the Entity ID field.
Choose Email for the Name ID format
Choose Basic Information > Primary email for the Name ID

Click Continue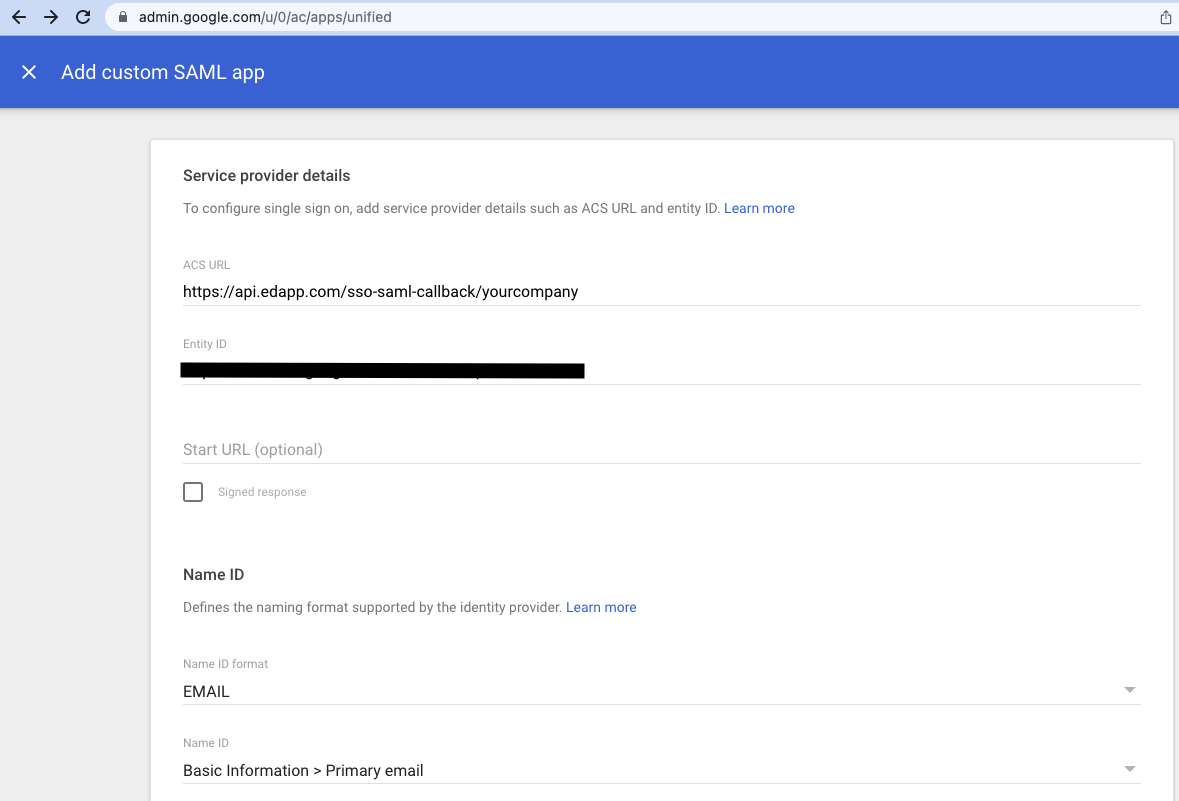 Step 5:
In EdApp you can use attributes from the user in Google to use as Custom fields in EdApp. To do this you can add mappings. It is important that the App attribute has exactly the same name as the field in EdApp. The firstname and lastname fields are fields that are default fields in EdApp that can be populated without adding a custom field, the attribute has to be added though.
Click finish to complete this step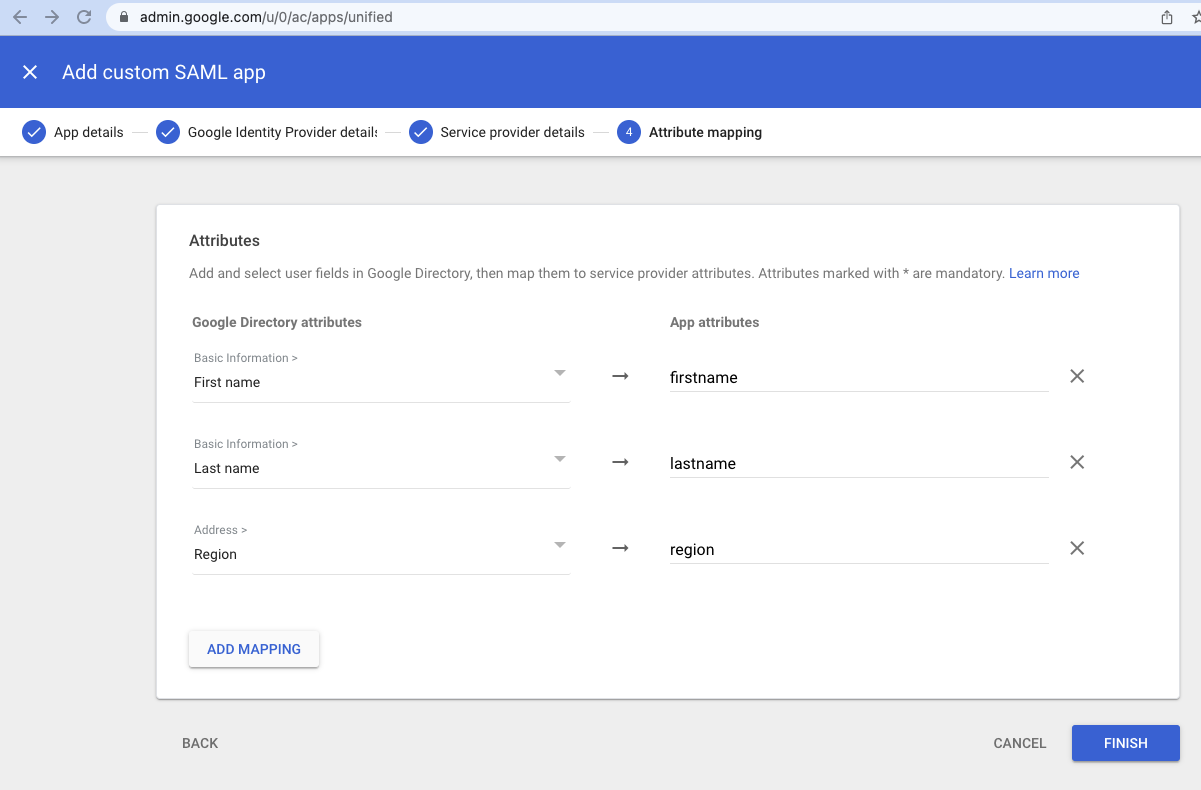 Make sure to give users access to the application in User Access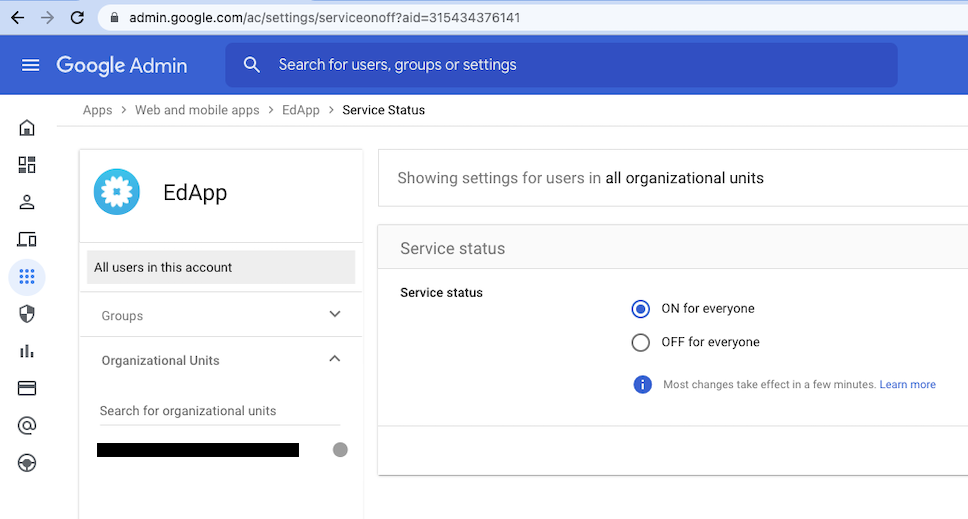 EdApp will now show up in the google Apps menu on Google.com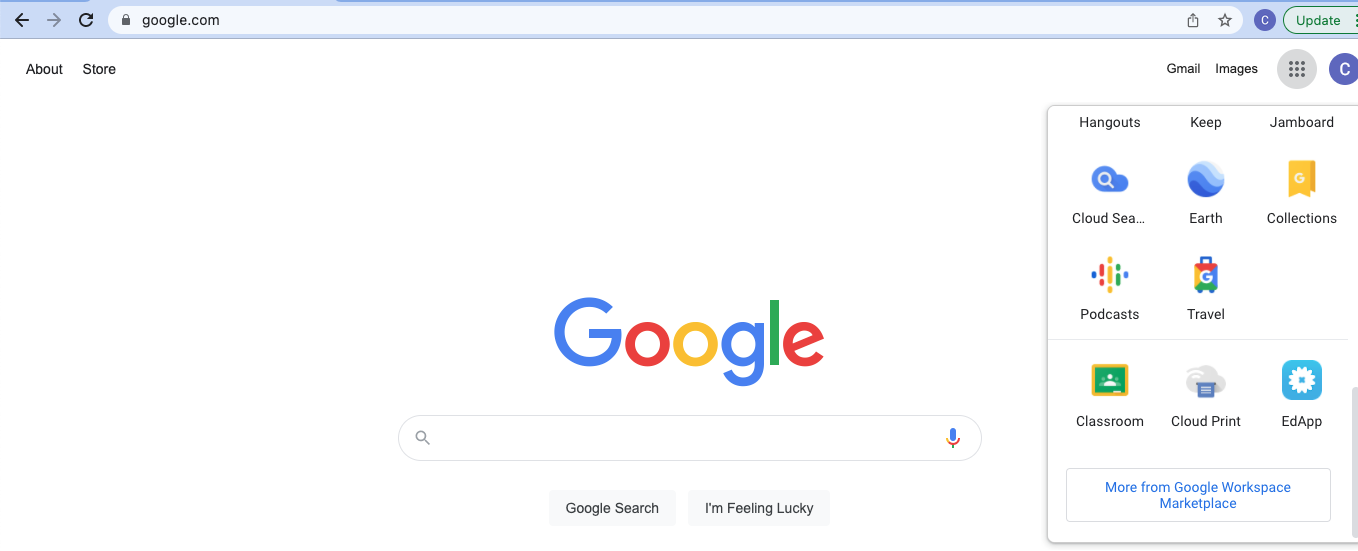 Configure SSO in EdApp
Step 6: Sign in to Ed LMS using your Ed Admin account, and click on the dropdown arrow located on the upper right of your screen. Select Single Sign-On.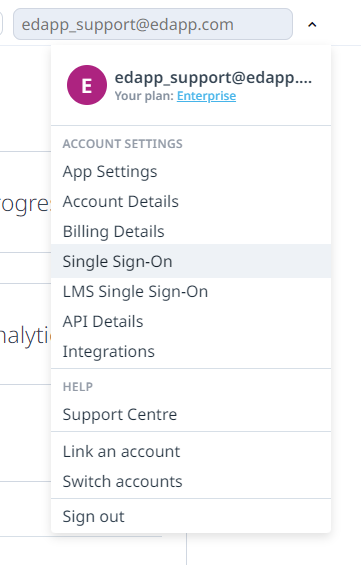 Step 7:
Choose Connect with SAML 2.0

Step 8:
Tick the Enable Single Sign-On box
Populate the Company ID with the same unique company identifier as above. E.g. yourcompany

Populate

SSO URL

with the

value copied from Google in

from

Step 2
Populate the SAML Entity ID with https://edapp.com/<yourcompany>
Upload the certificate downloaded from Google in Step 2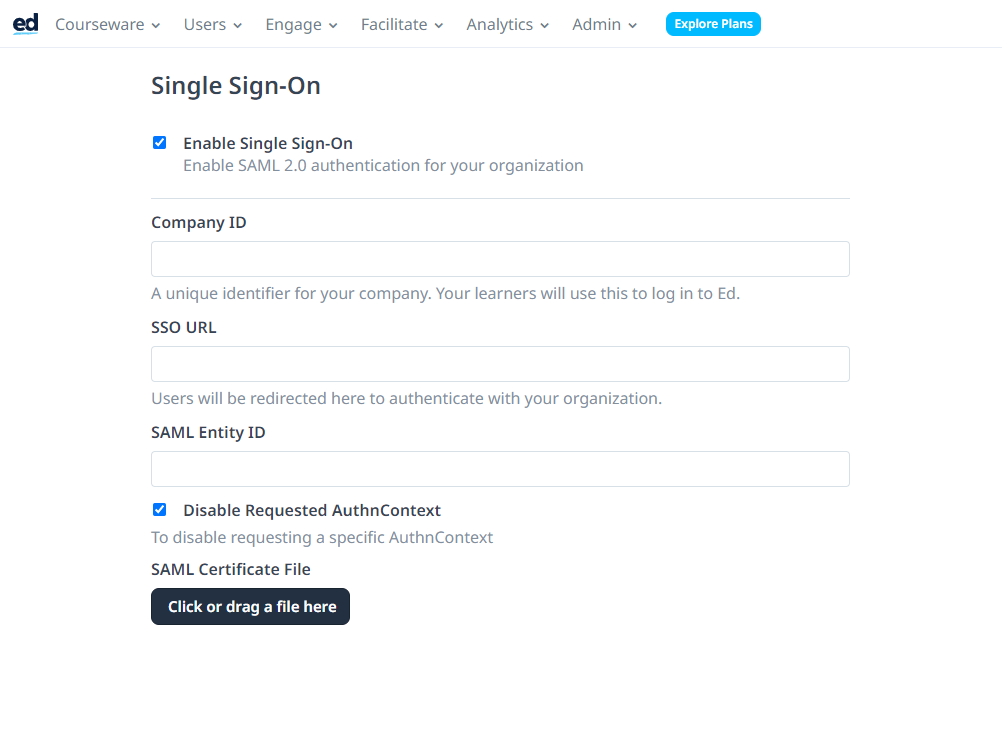 Congratulations! You've just configured your EdApp account with SSO, using Google. At this point, we recommend completing a round of successful testing by attempting login via SSO. If you get stuck at any point along the way, be sure to reach out to our live chat desk, or your EdApp account manager - we'd be happy to lend a helping hand. Additionally, feel free to share this Learner Guide for logging into EdApp using SSO with your users.
If you'd like to learn about Dynamic User Groups, which is great for mapping via SSO, then we recommend checking out the Admin Guide for setting up Dynamic User Groups using Azure AD.