This article summarises the features of the course completion by user page under the 'Analytics' tab
The Course Completion by User report summarises your user's progress per course. This report is useful to drill down to see which users are falling behind on progress in order to increase engagement, and features an export capability opening up opportunities for further data manipulation.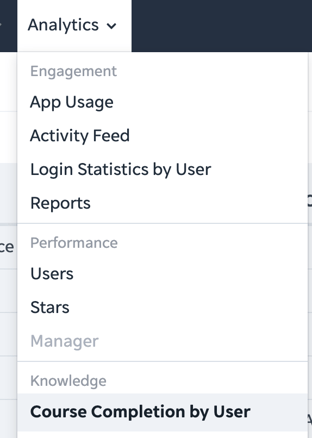 A user will appear in this report once they have opened the course and the course is assigned to them. This means that the user has tapped on the course tile, even if no lessons have been completed.
On the UI page, admins can see a colourful progress bar, if the colour is more on the green side of the spectrum, the user has either completed the course or are close to a completion. If the colour is more on the red side of the spectrum, the user has a low completion in this course.
Admins can also see a similar bar for score as well that represents the average score of the lessons completed across the course. Admins can also identify the date completed and how long it took the user to complete the course once it was accessed. The page also shows the total time spent in the course.

When the report is downloaded via the "Export CSV" button in the top right hand side of the page, you receive several additional fields. A user's score for the course is displayed as the average score of each lesson completed. It also highlights the number of required lessons in the course and the number of required lessons that have been completed – great data to measure progress. The progress column will show a number between 0-1. 0 means not started, 1 means complete, and anything in between is a partial completion of the course. Progress is represented in this way as it represents the percentage of the course the user has completed. The report also shows the date of completion as well as the user group that the user is in.

The Course Completion by User export has been formatted in this way to allow admins to use the Excel functionalities on the report such as filtering and pivot tables.
This report can be filtered by user group or course to aid the admin in the identification of certain information. This report can also be exported in order to give the admin the flexibility to use the data as they please, such as uploading it into third-party platforms.