Features of the course completion by user page under the 'Analytics' tab
The Course Completion by User report summarises your user's progress per course. This report is useful to drill down to see which users are falling behind on progress in order to increase engagement, and features an export capability opening up opportunities for further data manipulation.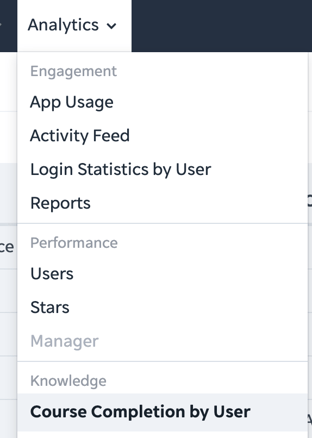 A user will appear in this report once the course is assigned to them via universal access, user group collection, direct assignment to user group or playlist.
In the report, admin will see four filters available for data drill-down: Username, User Group, Course and Status.

If the account has linked courses, admin can click the button when hovering over the Course column to show or hide the Language column.

Admin can also export the report by clicking the "Export" button which will allow admin to have the flexibility to use the data as they please, such as uploading it into third-party platforms. Admin will be able to select to export in one of these format: csv, image (png) and pdf format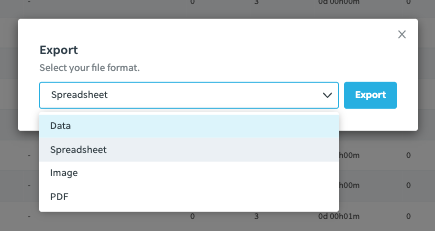 The Course Completion by User export has been formatted in this way to allow admins to use the Excel functionalities on the report such as filtering and pivot tables.
In the table below you will see explanations of the columns that you find in the report (on admin.edapp.com user interface) and the export (when you get the data into csv, png or pdf by clicking the 'export' button).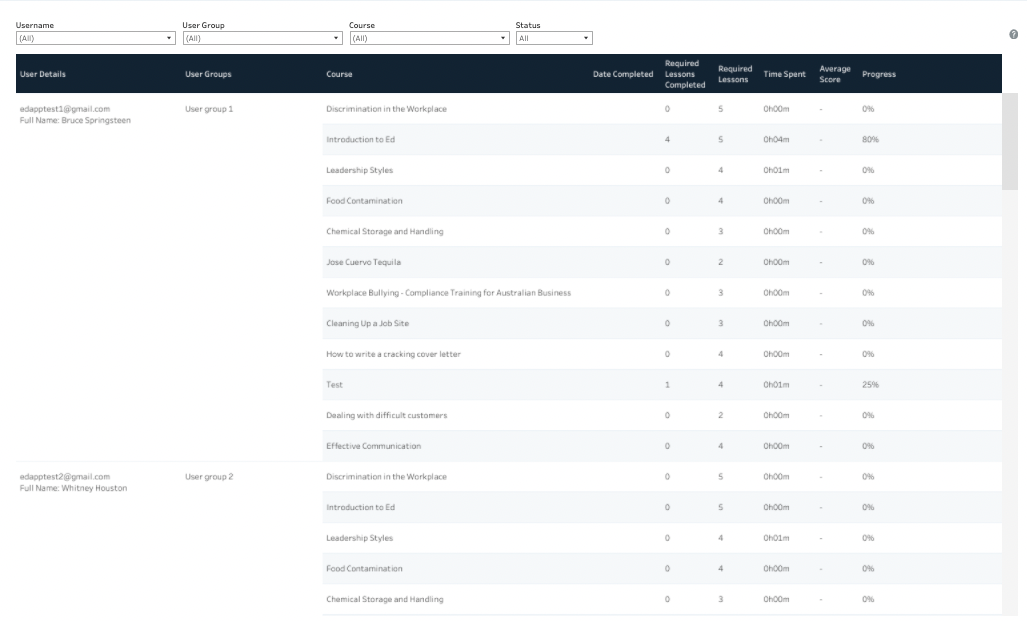 This report will show a maximum of 100,000 rows in the user interface and on the export, if you have more data rows, you can use filters to only pull the relevant data
The Definition of the column in report and export
Column

Definition

Report or Export

UserID

Unique ID to identify the users

Export

User Details

Username and Full name

Report and Export

Username

Username of the user that is used to log in EdApp

Export

User Groups

A full list of user groups of the learner

Report and Export

First name

First name of the user provided in the user profile

Export

Last Name

Last name of the user provided in the user profile

Export

Course ID

Unique ID to identify a course

Export

Course

Courses assigned to the learner via one of the below way:

Universal access

User Group Collection of the User Group or other user group that the user is assigned to

Direct user group

Playlist

The course must be published, not archived and have at least one published and non-archived lesson.

Report and Export

Language

If a course has been translated and linked to multiple versions, then the data will be aggregated to show up as one row with the below rule:

If the course has not been attempted, there will be no data for language

If the course has been attempted but not completed, the data of the course that has the highest progress will be displayed

If the course has been attempted and completed, the data of the course that has the latest completion (if the course has been completed multiple times in multiple versions) will be displayed

Report and Export

Date Completed (Displayed in local timezone)

The date the course completed, if it has been completed. If a new lesson is added to the course after completion, this remains the same date.

Report and Export

Required lessons Completed

The number of required lessons that have been completed by the user

Report and Export

Required lessons

The number of required lessons in the course.

Report and Export

Times Spent (minutes)

The amount of time a user spent in-lesson (on all slides of the lesson) for all lessons in the course. This data will show up for incomplete course as well.

Export

Time Spent (dynamic format)

same as C13

Report and Export

Average Score (Maximum: 100)

The sum of the highest achieved score in all counted lessons in the course divided by the number of counted lessons

This calculation implies non-mandatory lesson will be counted too.

This will show up only after a course is completed

The non-scoring lesson will be included in the calculation

Report and Export

Progress (0%-100%)

Representing percentage of the course the user has completed

The number of completed, required lessons divided by the number of required lessons

Report and Export
Users with the following roles enabled on their profile will not be included in this report:
- Reviewer
- Excluded from analytics