Top tips for troubleshooting when your learner is having trouble with their app
Content
Users aren't receiving emails for prizing or password resets
The user is seeing the wrong content
Users can't see their Leaderboard
The user's password needs to be reset
The user isn't receiving push notifications
Random Errors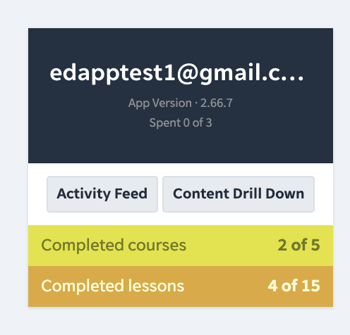 1. Check that the learner is on the latest version of the app so they can have the best experience possible.
Check their app version by going to
Analytics > Users
2. Log out of the app, force close the app, then logging back in.
This will allow their account to refresh with any changes to their courses or features.
3. Make sure they have a stable connection.
The app may display error messages the internet connection isn't stable. If your users are in an area of low connectivity, they can use offline mode.
Forgot to input Invite Code
If they can't seem to sign up to your organisation's account then they may have individually signed themselves up into their own account. If you think this has happened then please reach out via Live Chat or support@edapp.com with the email you signed up with.
Users aren't receiving emails for prizing or password resets
Try checking your junk/spam folder
Your team may also need to whitelist the following domains:
Users can't see content
Check:
they're signed in to the right account.
they are assigned the content.
Go to admin.edapp.com, search their email in the Users List, open their profile, and assign them to the group. Ensure the user group has courseware assigned in the courses section:
Users dropdown > Users > Search Email > Select Email > Go to User Groups Section >
Tap the User group you'd like to add them to > Save
The user is seeing the wrong content

The learner may be in the wrong user group. To remove a user from a user group:
Users > Search Email > Select Email to open their profile > Go to User Groups Section > Tap the User group in the Selected groups column that you'd like to remove them from >
Optionally add them to a new one > Save
Users can't see their Leaderboard
They may not be in the User Group assigned to the Leaderboard.
User asks about their Leaderboard scores
See this article for more detail on how leaderboard scoring works.
User's app freezes
This might happen if a users' wifi connection isn't strong, or they lack memory on their device. Try:
finding a stronger wifi connection
force closing the app and reopening.
Learners can also access the training via our desktop web app via web.edapp.com with their same email and password:
The user's password needs to be reset
Learners can tap the forgot password button in the app. This will email them a link to reset their password.
If this email goes to spam, for example, an admin can reset their password for them.
Go to Users > Users' profile > Type their new password into the password field > Save > Provide the learner with their password.
Passwords need to have 10 characters, 1 uppercase letter, 1 number, and 1 special character.
If you are not manually resetting their password for them, make sure they only tap the forgot password button once. Otherwise, they can get locked out of their account after 10 attempts.
The user isn't receiving push notifications
A learner can only receive push notifications when all of the below occur:
The learner has the app downloaded
The learner is signed into EdApp
The learner has push notifications enable from their phone system
How to turn on push notifications from your phone:
In your settings on your device, locate EdApp
Under Notifications, tap Allow Notifications
Learners will also not receive a push notification if they have the app open at the time the notification is sent (if they are taking courseware for example).

No Audio in Lessons
If you can't hear the video or audio in the lesson, check that your device's audio is switched on. This can be found on the top right side of your iOS device, or in the settings bar of your Android device.
Bugs
If there is a bug on the platform, or if the above scenarios don't resolve your issue, please reach out via live chat or support@edapp.com with the following information: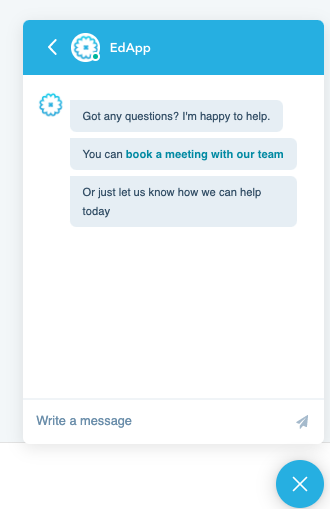 Description of the issue:
User email:
The below information about where the issue was experienced:
Course Name:
Lesson Name:
Slide #(s):
iOS or Android Version:
Device information (what type of device they're using):
Please attach any screen recordings or screenshots of the issue: