Learn more about how you can assess your learner's knowledge in a face-to-face setup!
Note that: Only users with the Admin and Facilitator roles have the permission to conduct Observations.
You can now use a "checklist-style" feature to conduct face-to-face assessments with your learners to see how their learning experience is going!
What is the 'Observations' feature?
Observations will help customers perform in person assessments to verify that their learners are applying the knowledge they have learned when performing certain tasks.
Once published, it appears as an individual lesson in a course, and can be made mandatory or optional, for learners to complete a course. Read more about the Frequently Asked Questions HERE.

Configuring Observations
Reach out to us, the EdApp team (support@edapp.com), if you are interested in setting up Observations for your courses. This step is required because the Observations feature is currently in a limited BETA release, at the moment.
Click Edit on the Lesson card and you will see a preview of the Observation.
Select Observation Settings to configure available options.
To remove learner visibility to the results, select Observation Settings and then deselect "Completed checklist access"
To configure access date and prerequisites, select Observation settings and set the following options the same way as any lesson configurations.


Conducting Observations
There are two methods to begin an Observation, either via a QR code scan or via the Facilitator menu.
Option 1: QR Code
Learner's Perspective: Learners can click into the Observation lesson and a QR code will appear, and they will be advised to show this to their assessor to begin the Observation.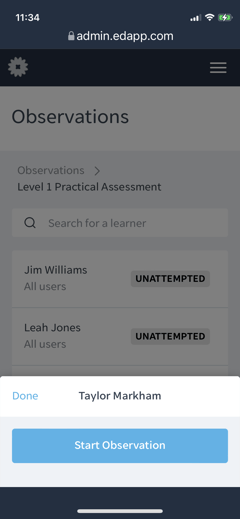 Facilitator/Admin's Perspective: Facilitators can scan the mentioned code with their device, and they will then be taken directly to that Learner's Observation attempt.
Option 2: Facilitator/Admin Menu
Facilitator/Admin's Perspective:
Select the 'Facilitate' dropdown at the top and click 'Observation'.

See a summary page of all Observations available with the following information and options:

Search
Observation lesson name
Course name
Preview






Click on an Observation to see a summary page of all Learners assigned to that Observation along with the following information and options:
Search
Learner Name
User Group
Observation Attempt Status
Start an Observation
Click on the Learner's name and the Observation checklist will appear. Go through the checklist, marking off items and leaving comments.

Click Submit Observation, leave a final comment and mark it as Passed or Failed.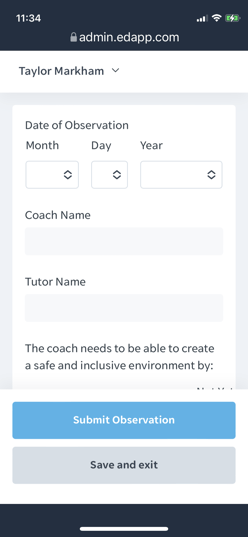 Resume an Observation
Observations that are not completed can be saved, allowing the assesor to come back and resume them at another time.

To recommence an In Progress Observation, click on the Learner's name and the Observation checklist will appear, with previous inputs saved.