Verify competency with a face-to-face assessment.
What are Practical Assessments?
A practical assessment is a type of lesson within a course. They are used to perform in-person assessments to demonstrate knowledge of practical tasks.
Some example use cases include —
Demonstrating store opening and closing procedures
Demonstrating sales negotiation techniques
Demonstrating how to change a tyre
Verifying barista training
Verifying safe operation of a forklift
Creating an assessment
Creating a practical assessment involves building your own assessment form using our drag-and-drop form builder. You can save your progress at any time.
Click into a course.
Click 'Create lesson' and select the lesson type 'Practical Assessment'.
In the top-right corner, click 'Edit content'.
Drag and drop form fields from the left-hand panel to create your assessment form. Upon dragging a form field onto the canvas, you'll be prompted to configure settings and data for that field.
Hit 'Save form' to save changes.
When you're done creating your assessment form, navigate back to the practical assessment lesson page to preview your form on mobile, tablet and desktop.
Publish your practical assessment.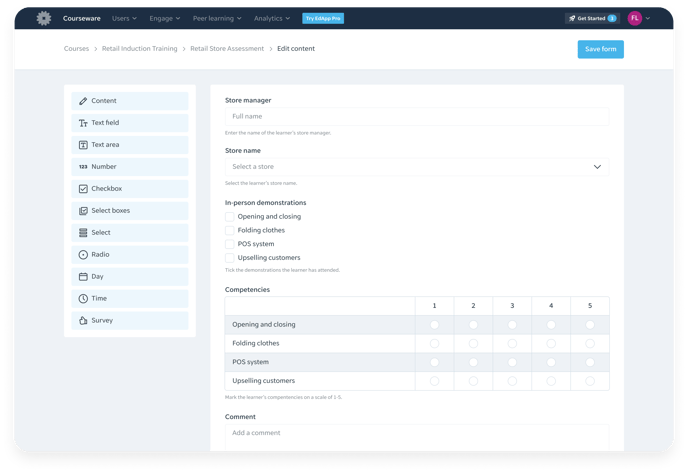 Navigation
Any users with the Admin or Facilitator roles will be able to conduct practical assessments for learners. There are two methods to navigate to an assessment —
Method 1: QR code
Ask your learner to open EdApp and click into the course containing the assessment.
Ask your learner to click into the relevant practical assessment.
A QR code will appear on the learner's screen. Scan this QR code to be directed to the practical assessment for that course, for that particular learner.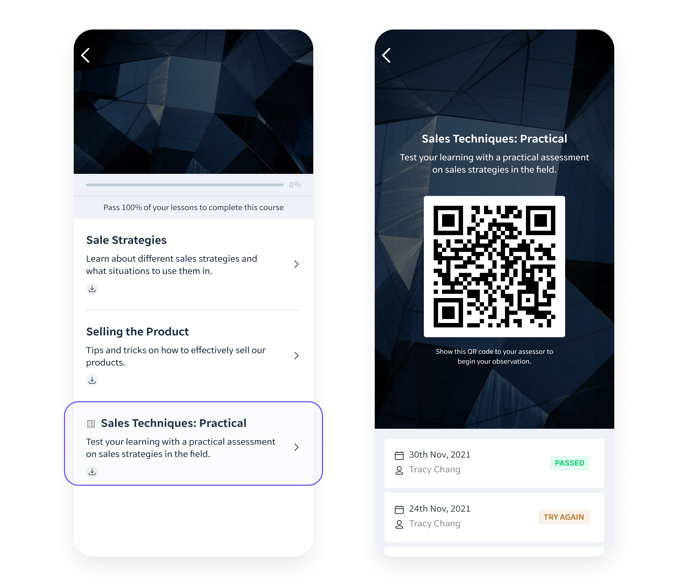 Method 2: Manual search
On the admin portal, navigate to Facilitate → Practical Assessments.
Click on the assessment you want to conduct.
You'll see a list of all learners assigned to the assessment. Click on the learner you want to complete the assessment for.
Click 'Start practical assessment'.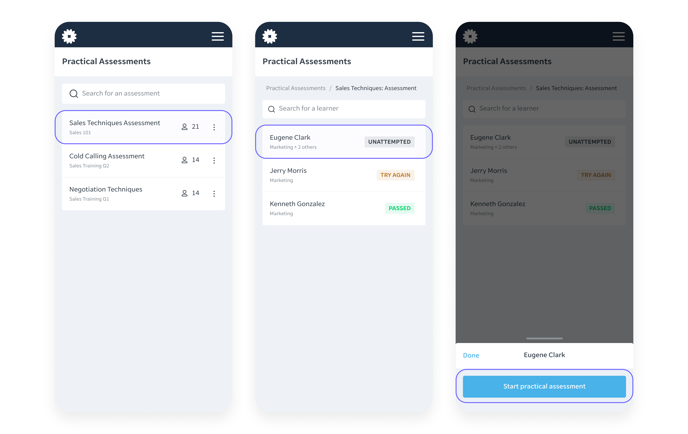 Completing an assessment
Filling out the assessment form is easy and can be done on mobile, tablet or desktop. Any users without an Admin or Facilitator role will be blocked from completing assessments.
Once you've completed the assessment, hit 'Submit practical assessment'. You also have the option to save your progress and resume at a later time by clicking 'Save and exit'.
Add your overall feedback. Your learner will be able to quickly reference this feedback through the learner app.
Mark the assessment as being passed or failed. Passed assessments are marked as complete in analytics. If a learner receives a failed mark, the assessment will need to be re-attempted to be marked as complete.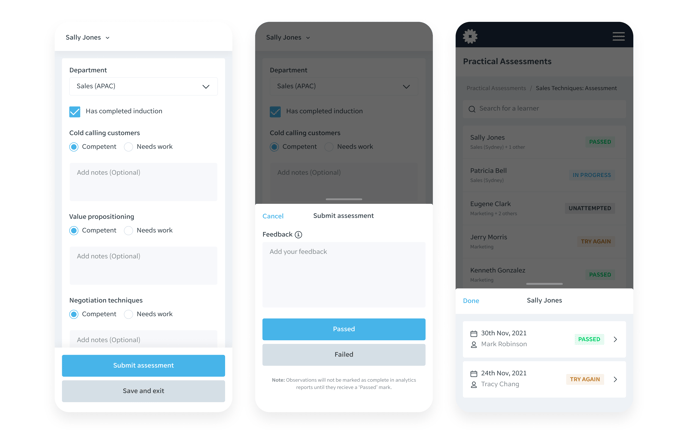 Learner perspective
Learners are able to view all assessment attempts and feedback through the learner app. Feedback can be accessed by —
Clicking into the practical assessment within the course, or
Navigating to My Profile → Practical assessment results to view feedback and results of all completed practical assessments

FAQs
Find answers to our most frequently asked questions about this feature here.