This article will outline what can be configured in the app settings by an Admin.
App settings are located in the top right-hand corner of the Admin tool in the drop-down menu next to the Admin's username.

In the app settings the Admin can execute a number of actions through the navigation of the tabs in the image below.

Stars & Prizing
- Stars can be disabled/ enabled on an account level so stars cannot/ can be earned throughout the learner experience.
- Admins can set the number of stars a user can earn daily for logging in to the app.
- The star bar can be enabled/ disabled by the Admin to allow learners to play games and win prizes with the stars they earn throughout courseware. This is also where the game that the learners can play is configured.
*Useful to note - only one star bar game can be configured at once.
- Admins can also enable a feature that forces a learner to accept terms and conditions of claiming a prize before they are able to claim their prize. The terms and conditions are customizable to the Admins requirements with the provided text box.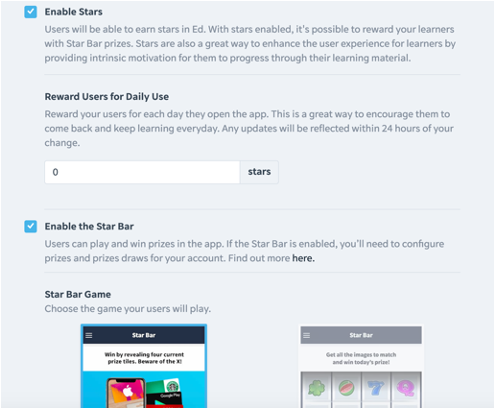 Engagement
- The Admin can enable/ disable social learning for the account on this level.
- Daily push notifications can be enabled/ disabled on this page and the timings for the prizing push notifications and new content push notification can be set to a suitable time for the learners.
*Useful to note – the notification is delivered in the user's time zone. Turning off these notifications will not affect custom push notifications.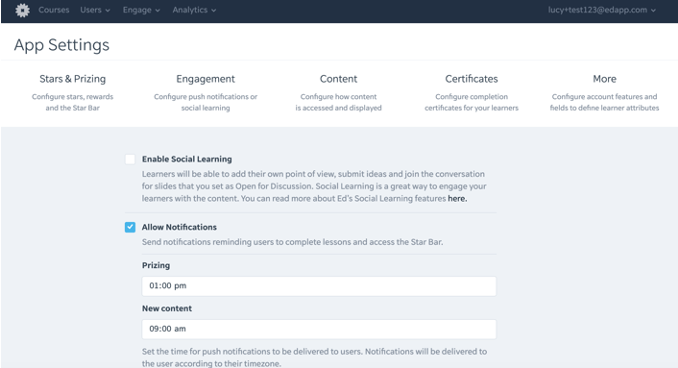 Content
- The admin can configure that all new courses are automatically put on 'universal access' automatically when created.
By default, any new courses created in your account will be on universal access unless this is turned off in app settings.
- A daily lesson limit can be set by the admin to limit the amount of learning a user can do per day.
- Weekend delivery can be enabled/ disabled where the learners will/ will not be allowed to access courseware on the weekend.
- Admins can mark SCORM lessons as' incomplete' upon failing (not meeting the minimum score), this will also depend on how the SCORM is set up on the LMS the lesson is being uploaded to.
- Display formats can be changed by the Admin.
- Global CSS can be enabled in order for the Admin/ author to be able to customise the lessons with CSS rules.
- Custom Splash Screens can be configured here and will be explored in further detail on the next page.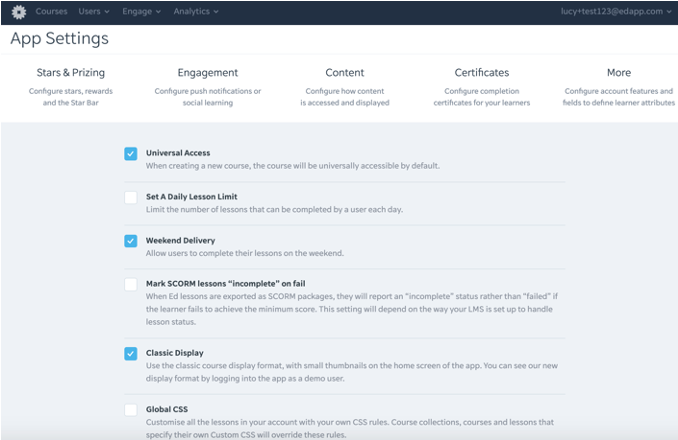 Certificates
- The Admin can enable/ disable a course completion certification that a learner can receive once a course is completed. It will show in the 'more' section for each course.
- Elements that can be customized include: brand/company name, certification badge (appears above the course cover image), brand logo (appears next to the brand/ company name) and the cover image for the certificate.