How to change a learner's custom field information.
Contents
Display attributes about that learner to other learners
Update individual custom field
Custom fields are used in conjunction with Dynamic User Groups. It can be used to collect information upon registration to the platform. To find out more about custom fields and how to set them up please see this article. They can also be used to attribute certain information against a learner's profile in order to carry out a number of functions:
1. Display attributes about that learner in discussions and assignments
In the example below you can see that the learners have job title and department displayed on their discussion.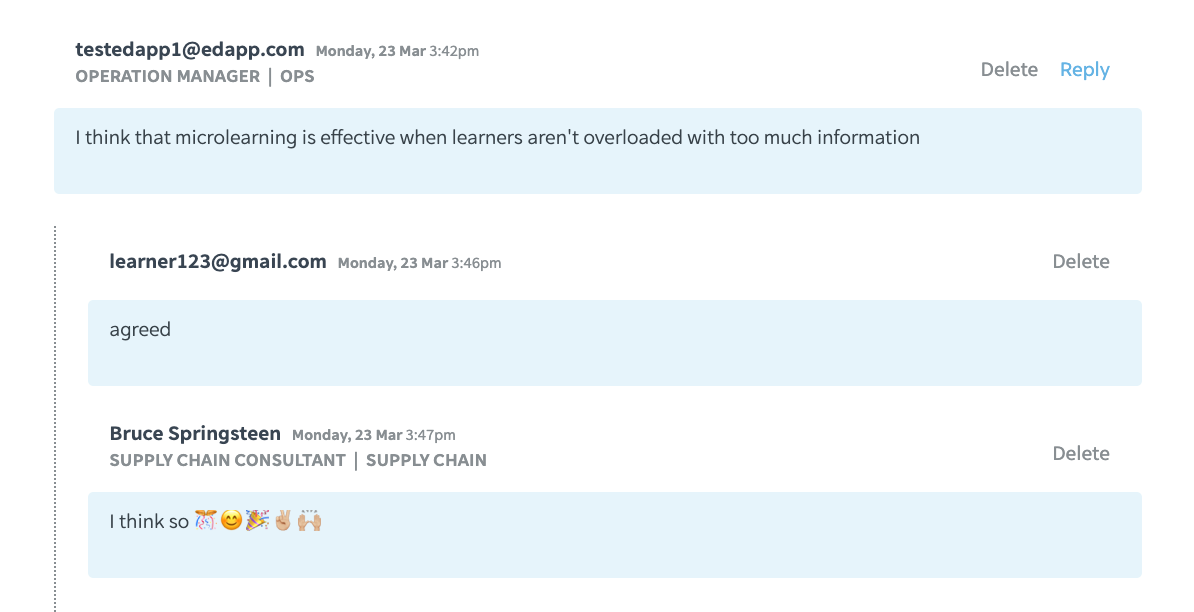 2. To be able to track other information about the learner
In the example below, you can see a learner profile, accessed by clicking on the learner on the "users" page.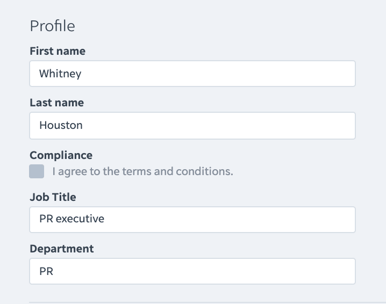 Things may change for your learners, and you may need to update their custom field information. This can either be done manually or via a bulk upload.
If your account uses SSO and has an integration with some kind of employee directory system, then these fields will automatically be updated in EdApp after they have been updated in the employee directory AND the learner logs in again.
Manually updating learner custom fields
1. Find the relevant user under the "users" section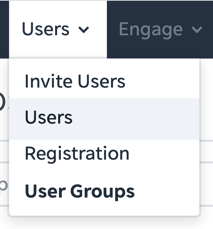 2. Click on them and scroll down to their learner profile section

3. Change any information that you need to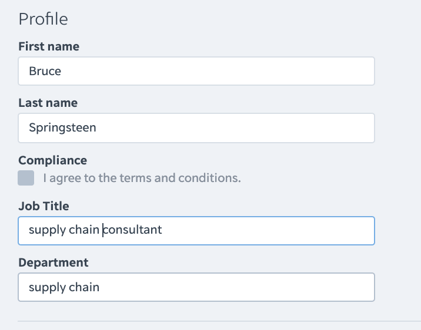 4. Save
Updating user information via a bulk upload
Bulk upload can be used to update user information including custom fields, and is a useful process when you have quite a few learners to update.
1. Export the user csv
Here is a guide on how to export your users information.
2. Use the filter capability on Excel to remove any users from this sheet you ARE NOT changing
We recommend removing any learners that you aren't changing information or custom fields for.
Choose the filter option on Excel.

You will need to filter out those who you are making changes to, so your sheet consists of those who you are not making changes to. In the example below, we want to make changes to learner123@gmail.com, learner345@gmail.com and learner456.com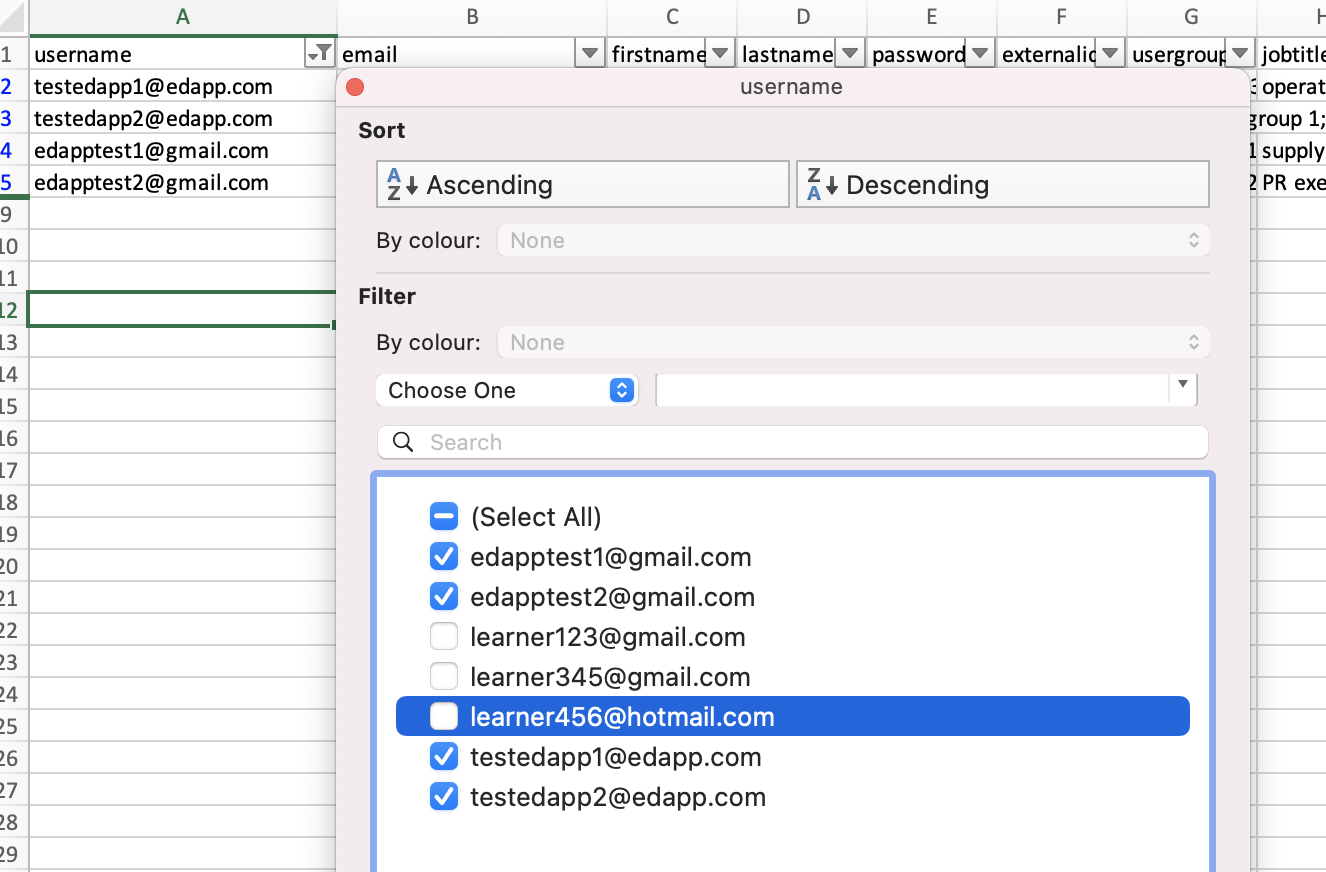 Once filtered, right click and delete these learners. This will leave you with only the learners you are making changes to.
By removing these learners from the spreadsheet it WILL NOT remove their learner profile it will just mean no changes will be made to their profile.
3. Change any relevant fields without deleting any columns
Please note - changing the username of a learner will lead the system to set up a new learner all together. If you want to change a learner's username, this can only be done manually, on their learner profile.
Leaving the password column blank will mean the learner maintains the password that they have set up. We advise not changing this.
If you want to add the learner to an additional user group from this page you can, but you will need to add "; " between each group e.g. if I want a user to be in User Group 1 and User Group 2, I would write the following in their user group box:
User Group 1; User Group 2
This also needs to be written exactly how the user group is named or the system will not recognise it. Watch out for extra spaces here!!!
4. Save your sheet (make sure it is still a CSV) and upload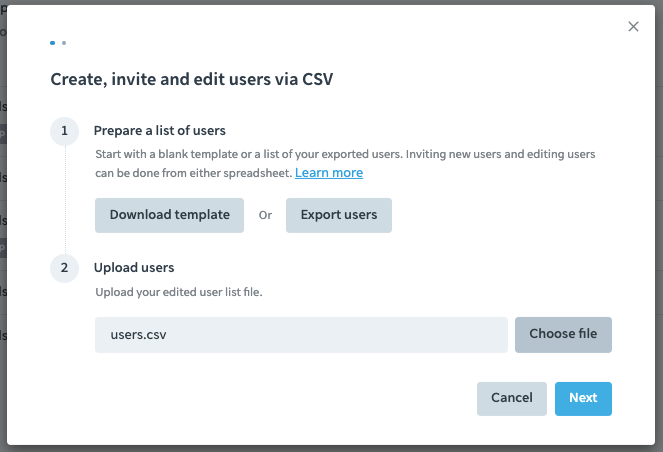 Click the "Choose file" button and upload your csv file. Then click Next.

Choose whether you would like any new users to be sent invitations using the toggle. Then choose "Upload" to update your user data.
5. Confirmation of changes successfully made

Once this CSV has been imported, your changes will be live on the learner's profile.