This article will highlight ways you can communicate with your learners through EdApp
There are a number of ways to communicate with your learners via the EdApp Platform. Whether you'd like to notify teams of new content or prizes, initiate peer to peer discussion, or give them a gentle reminder to complete content or log in for the first time, EdApp has several modes of communication you may choose from.
Push Notifications
Great for notifications about new content and prizes.
Automated push notifications are notifications sent to learners when they have downloaded the mobile app. You enable them in your app settings, and learners will receive notifications when new content and new prizes are available. These are a great "set it and forget it" feature that have a huge impact on completion rates. You can even choose the time they'll go out!
Custom Push Notifications are a great feature to communicate with your learners to notify them of upcoming due dates for content, or any internal communications you'd like to share (for example, a notification to sign up for an upcoming webinar). Custom push notifications are also a great way to communicate to individual groups.To use them, open any user group, and navigate to the push notification field on the right side of the page. Customize the title and body of your push notification, and click 'Send Push Notification'. You can read more about this here,
Actionable reports
A useful way to nudge learners who are falling behind via email or push notification.
Actionable Reports are one of the formats of reporting in EdApp's Analytics suite. Using existing program data, they allow Admins to choose between a variety of actions to re-engage their targeted learners.
There are four different types of criteria we are measuring in these reports:
Users with partial completions
Users who have logged in but not started any courses
Users who have never logged in
Users with a low completion rate
Upon choosing a report, you can filter by user group and/or course, then send communications to targeted learners through a built-in custom email and push notification system. You can also export the data via a CSV file. These actions will be sent to specific users that fit the criteria by which the Admin has filtered.
These are also a great option for learners who respond better to email communications than push notifications.
Learn more here.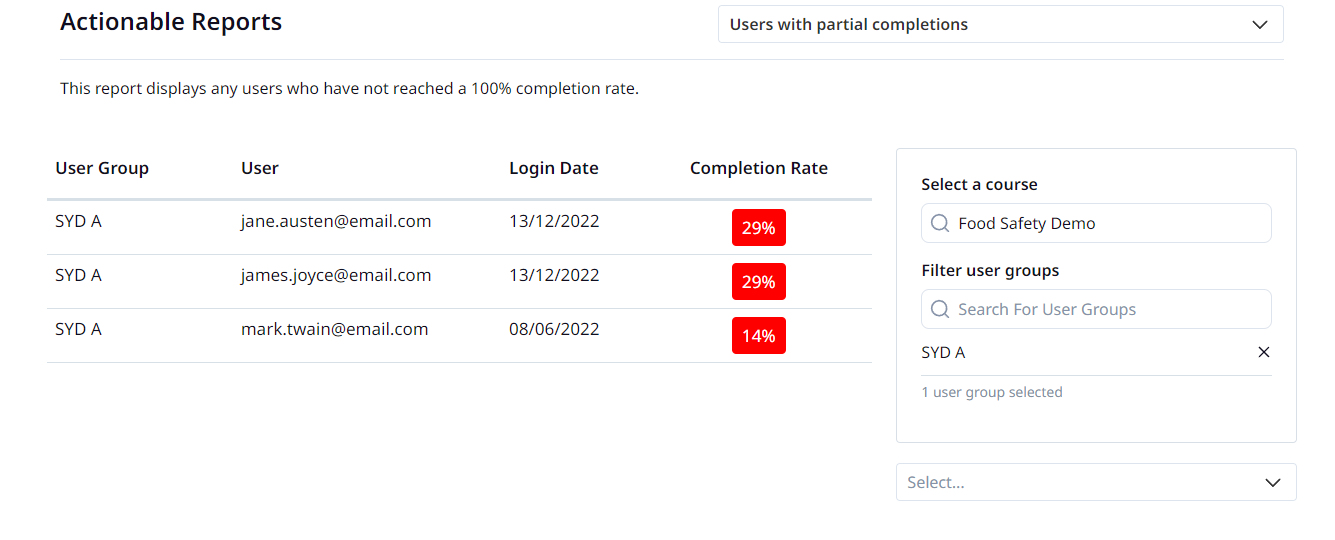 Banners
Useful for highlighting important information about your learning program.
Banners always appear at the top of the screen so are prime real estate in EdApp.
A banner should provide immediate information or lead to an important/useful website. You can use the banner to show off new products, link HR portals, direct learners to forms or even lead them to mental health resources.
Learn more here
Discussions and Assignments
Great for learners to communicate with each other and learn from subject matter experts at their organization, and an ideal feature for Managers at a company to provide feedback on learner responses.
A Discussion is a 'forum' style feature in which admins can pose questions or topics to their learners and start a peer-to-peer and/or peer-to-admin conversation.

Learners can upload photos, videos, leave text responses, and comment on other learners' submissions.
They can be made mandatory or optional in order for learners to complete a course.
Admins can utilize the corresponding page on the Admin tool to centralize replying to and managing threads.
Learn more about Discussions here.



Our Assignments feature functions in the same way as Discussions in that they give admins the capability to pose a question or task to learners who have to submit an entry against the assignment. The main difference between them is an assignment can then be graded as pass/ fail/ try again by the Admin who will also leave feedback as a comment for the learner.
Learn more about Assignments here.
Best mode of communication in EdApp to remind learners to log in for the first time

We have two simple ways to send reminders to learners to log in for the first time. Both of these features are available for learners who have been invited via email, not via invite link or code:

Actionable reports when filtered for: Users who have never logged in, admins have the ability to write a custom email to learners to remind them to log in.


Invite Idle Users: If you have invited users to EdApp via email/CSV upload, you have the ability to remind users to log in to the platform if they haven't done so 24 hours after receiving your initial invitation.
From the Users list, tap the dropdown next to 'create a user', and select, 'Invite Idle Users'
Once you click this, users who haven't logged in yet will be sent a new invitation email with login information. The system will list for you how many idle learners have received this new email.
Learn more here.
Check out our useful communications plan as well!