Explore the most frequently asked questions (FAQs) about our free Harassment Prevention course backed by American law firm, Polsinelli.
Responses to the FAQs are provided for informational purposes only. The responses are general and not intended to be legal advice. For the most accurate and up-to-date information and how it applies to your company, we recommend following the advice of your company's legal team and checking your own local and state laws.
Q: What is the training about?
We've partnered with American law firm, Polsinelli, to create a course that helps employees know what behavior is expected from them to create a harassment-free workplace and a workplace of respect.
It includes 11+ bite-sized lessons that your team can complete from any device. Just assign your learners to the correct training, depending on what state they work in and what their role is (supervisor or non-supervisor).
The courses are designed to comply with the legal requirements regarding sexual harassment in the workplace for all states.
Q: Who is the training for?
The training is designed for both non-supervisor and supervisor employees in the USA, and is suitable for organizations of all sizes and industries across all 50 states.
Q: Who is considered a supervisor in the workplace?
Generally a supervisor is someone who supervises, directs or evaluates the work of one or more employees (including the management of casual, temporary, or student workers).
The California Fair Employment and Housing Act (FEHA) considers an employee a supervisor if they have the discretion and authority to:
hire, transfer, promote, assign, reward, discipline, or discharge other employees, or effectively recommend any of these actions; or
act on the grievances of other employees or effectively recommend action on grievances; or
direct employee(s)' daily work activities.
Q: Are employers required to provide harassment prevention training for all employees?
Harassment based on a protected class status is unlawful in the US, and US employers have an obligation to take steps to prevent such harassment in the workplace.
As a best practice and as part of an employer's harassment prevention strategy, US employers should regularly provide harassment prevention training to its employees. Some jurisdictions have laws explicitly requiring employers to provide such training. These jurisdictions include California, Connecticut, Delaware, Illinois, Maine, and New York.
For full legal requirements by state, visit our blog post here.
Q: What course is right for my learners?
We have 3 versions of Polsinelli's Harassment Prevention training available to meet your state's legal compliance requirements.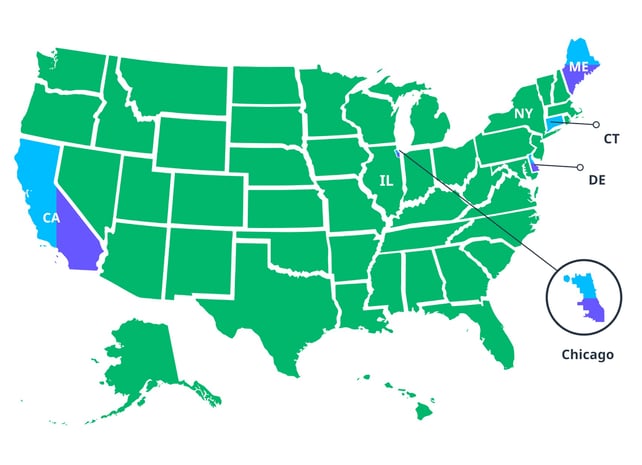 Essentials (45 minutes): This course covers the majority of states including New York (State and City), Illinois, Massachusetts, Washington and Rhode Island. We have a separate version for supervisors and employees (non-supervisors). (Green states on the map)
Extended (1 hour): This training is for employees (non-supervisors), and meets the specific legal requirements for sexual harassment training in California, Chicago, Maine and Delaware. (Purple states on the map)
Advanced (2 hours): This training is more in-depth and meets the specific legal requirements for sexual harassment for supervisors in California, Maine, Delaware, Chicago, Connecticut as well as non-supervisors in Connecticut. (Blue states on the map)
Q: Should we train employees in other states?
All other states either encourage or recommend employers provide their employees with harassment prevention training. Our Essentials course (45 minutes) was designed with these learners in mind.
Q: What topics does the training cover?
The course covers a variety of topics, including:
Harassment
Sexual Harassment
Protected Classes
Different Types of Sexual Harassment
Where Harassment can Occur
3rd Party Harassment
Retaliation
Reporting Sexual Harassment
External Organizations
Investigation
Call To Action
Bystander Intervention


Q: How long does the training need to be?
Harassment prevention training is often around 1 hour. Some jurisdictions have specific length requirements for training. For example, California and Chicago each require harassment prevention training for all employees to be at least 1 hour and training for supervisors to be at least 2 hours. Similarly, Connecticut requires all employees to receive at least 2 hours of harassment prevention training.
Q: Is the training free?
Yes! All 1,000+ courses in our course library are free. Explore what other ones we have here.
Q: What's the best way to get started?
Already have an account?
Log into your EdApp account, then go to the course library to deliver it to your teams in minutes.
You can access the course library from the "Content" tab by clicking on "Course library." Or, you can click on the button "Browse course library" top right once you are in the "Content" tab.
Simply search for "Harassment prevention" and all versions of the Essentials, Extended, and Advanced courses will appear. Then, you can "Select" the courses you'd like to import based on role seniority and location (multiple courses can be imported at the same time), and click "Import [X] courses".
New to EdApp?
If you don't have an EdApp account yet, get started here for free then follow the steps above.
Q: Some of my learners are in different states and require different training. How do I assign the right training for my team?
Follow the steps outlined in the answer of the last question to import your courses.
Already have user groups set up?
Make sure your user groups are in line with the city and state requirements of each of your locations, as outlined in the map above. You can do this by clicking the "User groups" tab under "Users" in the menu to configure these user groups based on role and location (city/state).
Open your course. Click on "Course settings" or "Assign" to select your user groups under the "Access rules" tab. Then, hit "Publish."
Once the course has been published to that user group, the course will become immediately available to those specific learners.
Need to set up user groups?
Learn how to organize your teams into user groups and dynamic user groups.
Please see diagram below explaining the Learner Journey for this training: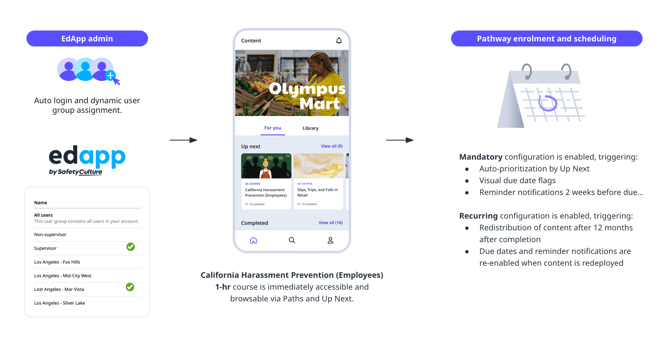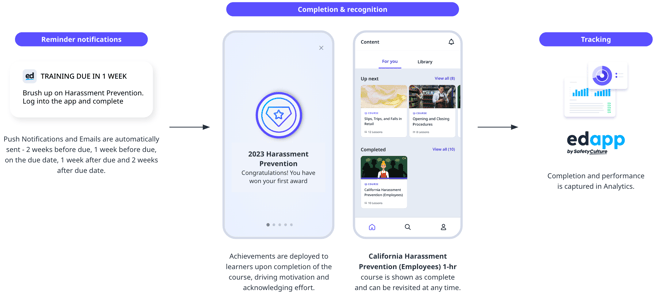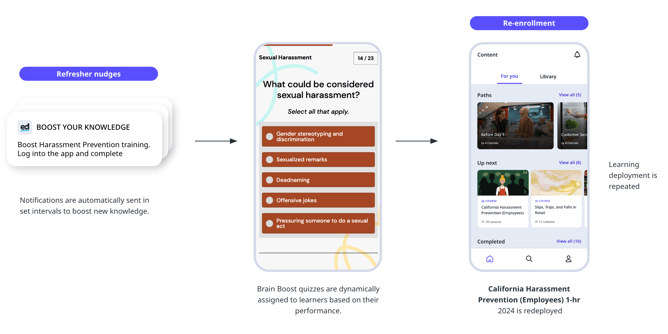 Q: What if someone in my team gets promoted to supervisor?
If your user groups are configured based on role, you can easily move learners between groups to assign and access the correct course (non-supervisor or supervisor).
If dynamic user groups are configured, your learner's group enrolment will automatically change based on their profile changes. Then, they can access the correct course (non-supervisor or supervisor).
Please see the diagram below explaining the Learner Journey for this scenario: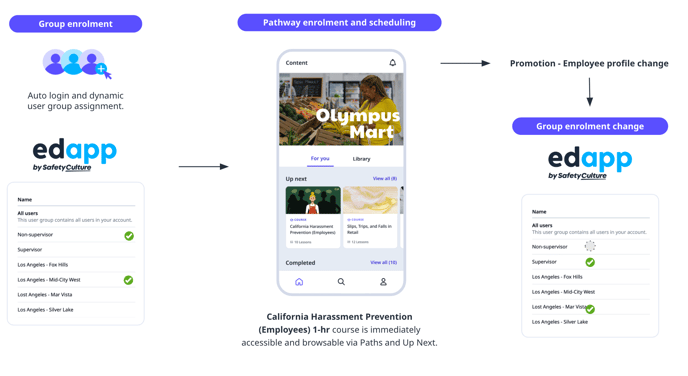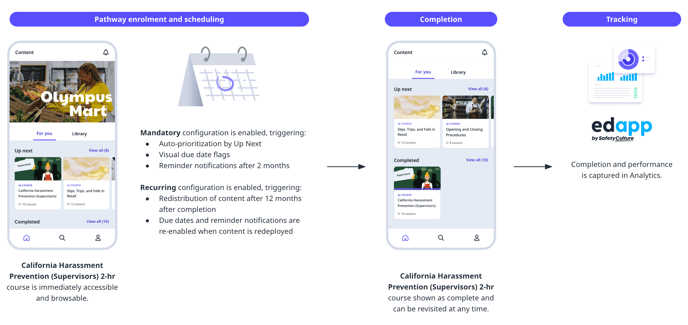 Q: How can I tell if my learners have completed their Harassment Prevention training?
You can view and export your learners' completion and performance data in the "Analytics" tab. The course will show as "Completed" in their account and can be revisited at any time.
Q: Is there a certificate upon completion?
Yes! As with all EdApp courses, learners will receive a certificate once the course has been completed. If you're an admin and need to access your learner's certificates, here's how you can do it!
Q: When do we need to provide harassment prevention training?
As a best practice, employers should provide harassment prevention training to employees promptly following hire. Some jurisdictions require employers to provide harassment prevention training within a certain time period following the beginning of employment. For example, California, Connecticut, and Illinois require most new hires to receive this training within 6 months of hire, and Delaware, Maine, and New York require most new hires to receive this training within 1 year of hire. California requires employees who are hired for less than 6 months to receive training within 30 days of hire or the first 100 hours worked, whichever occurs first. Employers can, of course, provide training sooner.
Also, as a best practice, employers should regularly retrain employees on harassment prevention to keep the information top of mind for employees. As with initial training requirements, some jurisdictions require employers to retrain employees within a certain time. For example, Illinois and New York require employers to provide training at least once a year; California and Delaware require employees to receive harassment prevention training at least every 2 years; and Connecticut requires employees to receive harassment prevention training at least every 3 years.
Q: How do I make sure my learners complete their training within the initial enrolment? (e.g. Within 6 months of hire?)
Automatically enroll new employees into Harassment Prevention training and set automated push notifications to remind them to get it done. To do this:
Open the course. Click "Course settings" then "Access rules" to set the training as "Mandatory." You then need to enter a due date for the course – whether that's a specific date or time frame.
This will move the course to the top of the list in the learner portal (auto-prioritization) and trigger visual due date flags on the course itself, so your learner can easily see when it's due. It will also send a reminder 2 weeks before the due date.
You can also customize these notifications and set automatic notifications to ensure your learners complete their training by the specified due date.
Q: How do I set up retraining?
If your learner is in a state that requires them to retake harassment prevention courses every few years, automate that compliance process with recurring certification. This will automatically re-enroll learners into the course after expiry, on an ongoing basis.
Using recurring certification will trigger:
Training will be re-delivered to your learner X months after completion.
Due dates and notifications are re-enabled once the training is re-delivered.


Q: How do I assign a course to a supervisor vs a non-supervisor?
Each course specifies whether it's built for a supervisor or non-supervisor in the title and description. We recommend using user groups to efficiently assign the right training to the right learners.
Q: Would you recommend any additional settings for learner development?
We recommend turning on our Brain Boost spaced repetition feature to help your learners remember their training for longer. Once your teams have completed their training, Brain Boost takes the concepts they didn't understand to create and deliver personalized quizzes until the learner shows they've learned the concept.
Learn more about the science of Brain Boost here.
Q: Does my team need to complete the training on their desktop?
No. EdApp is designed as a mobile-first platform for learners. This way they can complete their course anytime, anywhere, on any device when it's convenient for them. (Including offline mode)
This includes via mobile phone, tablet, or desktop – whatever works best!
Download the app in Google Play, the App Store, or on web.
Q: What languages is the training available in?
The course is currently available in English. A Spanish version is coming soon to the library.
For Managed and Enterprise customers, please make any translation requests to your customer success or account manager.
Q: Some states mandate that learners be allowed to ask questions and receive answers. How is this implemented in the training?
Part of the training requirements for certain states, such as California and Connecticut, means an administrator must be able to respond to any learner's questions they may have at the end of the training. We have a survey slide at the end of each course so your learners have the ability to type their question/s and have them answered as required by the law in these states.
Please note - for this course to be considered compliant it must be deployed by an organization or a company with the capacity to answer any questions their learners may have - within a reasonable time period.
Q: Do I need to provide separate bystander training?
The general harassment prevention training addresses how bystanders can prevent harassment. However, employers can provide additional, separate training on that topic. In fact, Chicago requires employers to provide separate bystander training. Employees, regardless of location, can take the bystander training.
Q: How do you ensure the courses are kept up to date with changes in federal or state law?
Our Harassment Prevention training is fully reviewed and backed by Polsinelli, an Am Law 100 firm. These courses were created in October 2023 and are intended to comply with the legal requirements in each state. As laws change, we will update the content and then alert organizations to any changes.
As noted above, companies should consult their legal team for the most accurate and up-to-date information and how it applies to your company.
Q: Who is Polsinelli?
Polsinelli is an Am Law 100 firm with more than 1,000 attorneys in 22 offices nationwide. Recognized by legal research firm BTI Consulting as one of the top firms for excellent client service and client relationships, Polsinelli attorneys provide value through practical legal counsel infused with business insight, including a nationally recognized Labor and Employment Department.
Polsinelli's Labor and Employment attorneys partner with management to navigate challenging labor and employment problems in increasingly regulated workplaces. We help business clients plan and implement practical human resources solutions such as workforce restructuring, union avoidance plans, restrictive covenant and intellectual property protection plans, and merger and acquisition related workforce integrations. When employment disputes escalate to high-stakes litigation, our attorneys bring to bear decades of trial and class action experience to win at trial or at the negotiating table. Whether representing established Fortune 50 enterprises, or privately held entrepreneurial ventures, we work in concert with our clients to find employment solutions that advance their business objectives.
Subscribe to our Polsinelli at Work blog! Our blog focuses on topics ranging from workforce development and compliance to employment litigation, disputes and class actions to immigration, traditional labor and workplace safety. Contributing authors from the Polsinelli Labor and Employment Department offer insight into how these topics impact your day-to-day employee relations and workforce policies.
If you have a question or need legal assistance, please email edapplawfirm@polsinelli.com
Q: Can I customize the course with my company logo?
At the moment, only customers on our Managed and Enterprise plans are able to customize parts of these courses. Speak with your customer success or account manager to have them customize pre-approved aspects of the course – like branding, background, imagery, graphics, tone, and scenarios – to better reflect your organization.
Learn more about our Managed and Enterprise plans here.
These courses have been locked from edits as these courses have been reviewed thoroughly by Polsinelli. This is to protect your business as changes to the course may make the course no longer compliant with state and local law.
Q: What can I do if I want to learn more or have more questions??
Talk to our team through live chat today!