Our state-of-the-art authoring tool gives Admins and Authors the capability to produce exceptional microlearning content.
The platform has already been created to support a wide range of templates that are super user friendly and interactive. This makes it quick and easy for admins and authors to create new lessons in minutes!
Where do I start?
There are three ways to create content!
1. Import a course from the course library
All free content that we have is available for you to use in our course library. You can use off the shelf to deploy training immediately or use it as 'scaffolds' or design inspiration.
3. Create a course from scratch.
Below we are going to look at how to create a course from scratch, but it's probably worth giving you some context! EdApp lessons (small bites of microlearning content) sit within courses. Courses are normally topics e.g. Fire Safety or Effective Communication. Lessons are the subtopics within these that will break down the elements of the topic. Within lessons, we have slides that hold information and questions on the subtopic. There are a few types of slides: content, interactive, games and survey.
Recommendation: Keep lessons to 8-15 slides, so they take 2-5 minutes for the learner to complete, and 4-6 lessons per course to make them achievable for a learner to complete in 20-30 minutes.
Create a course from scratch
Step 1: Click on the 'courses' tab under the 'courseware' section
This is where you'll find all the content that has been imported to or created in your account.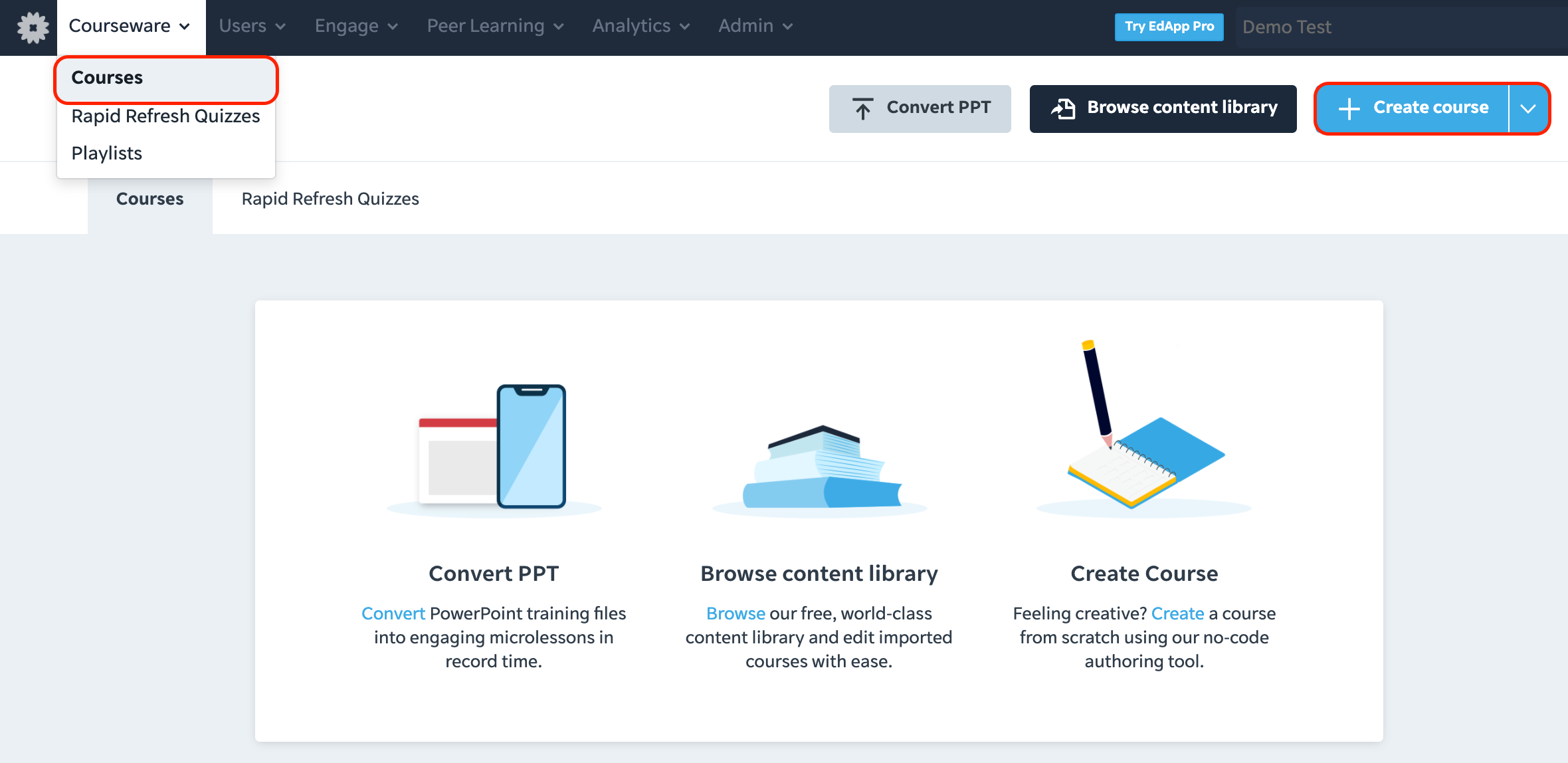 Courses and lessons have 2 states:
Published: this means that any learners that have been given access to the content will be able to see it in their account
Draft: this means that no learners will have access to this content even if they are assigned. We recommend keeping content on draft until it is ready to go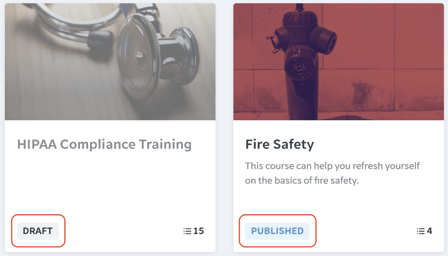 Step 2: Click on 'create course' then 'create lesson'
This will open up your course that will hold lessons. You can also add a course description to let the learners know what they will be learning about.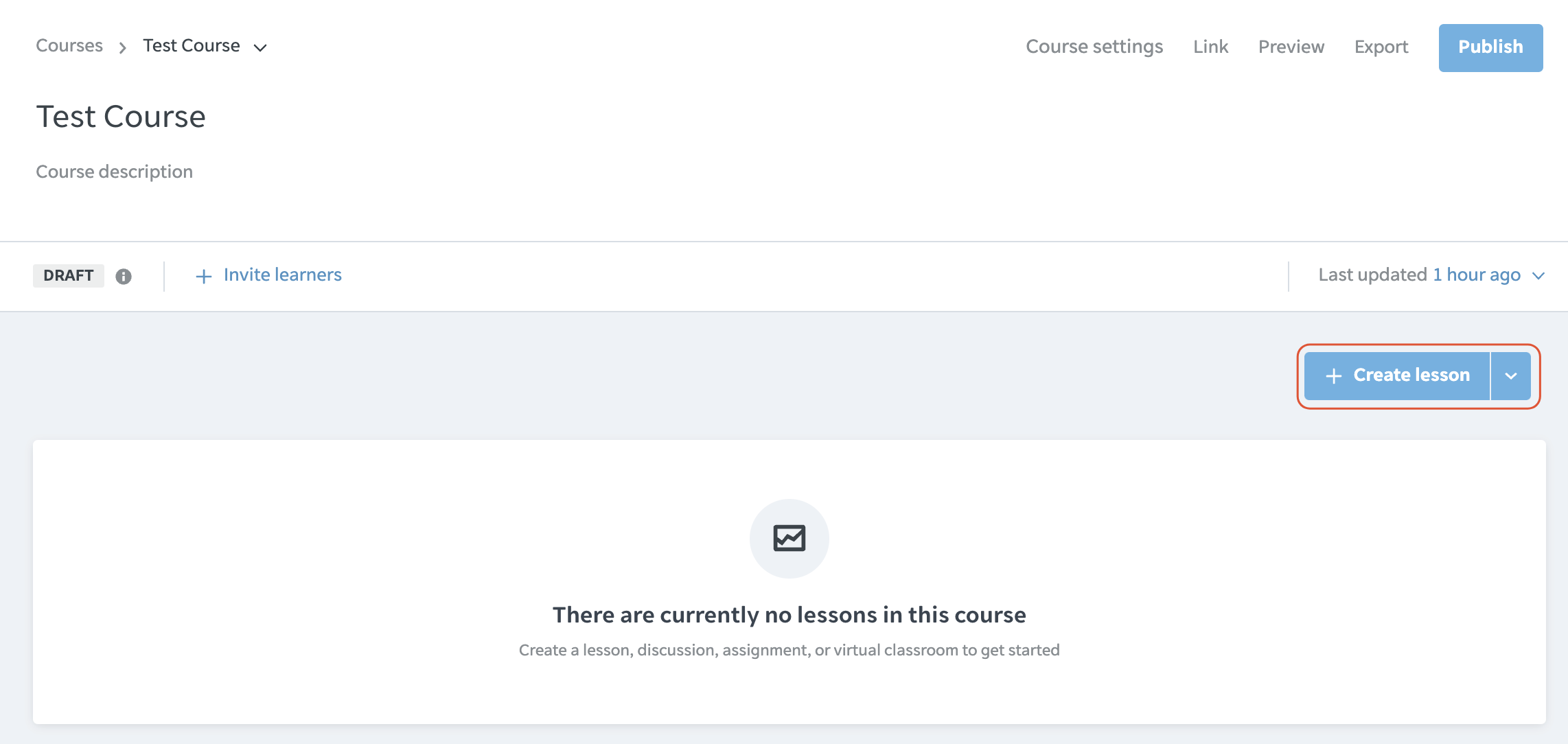 Step 3: Click on 'edit content' to open the authoring tool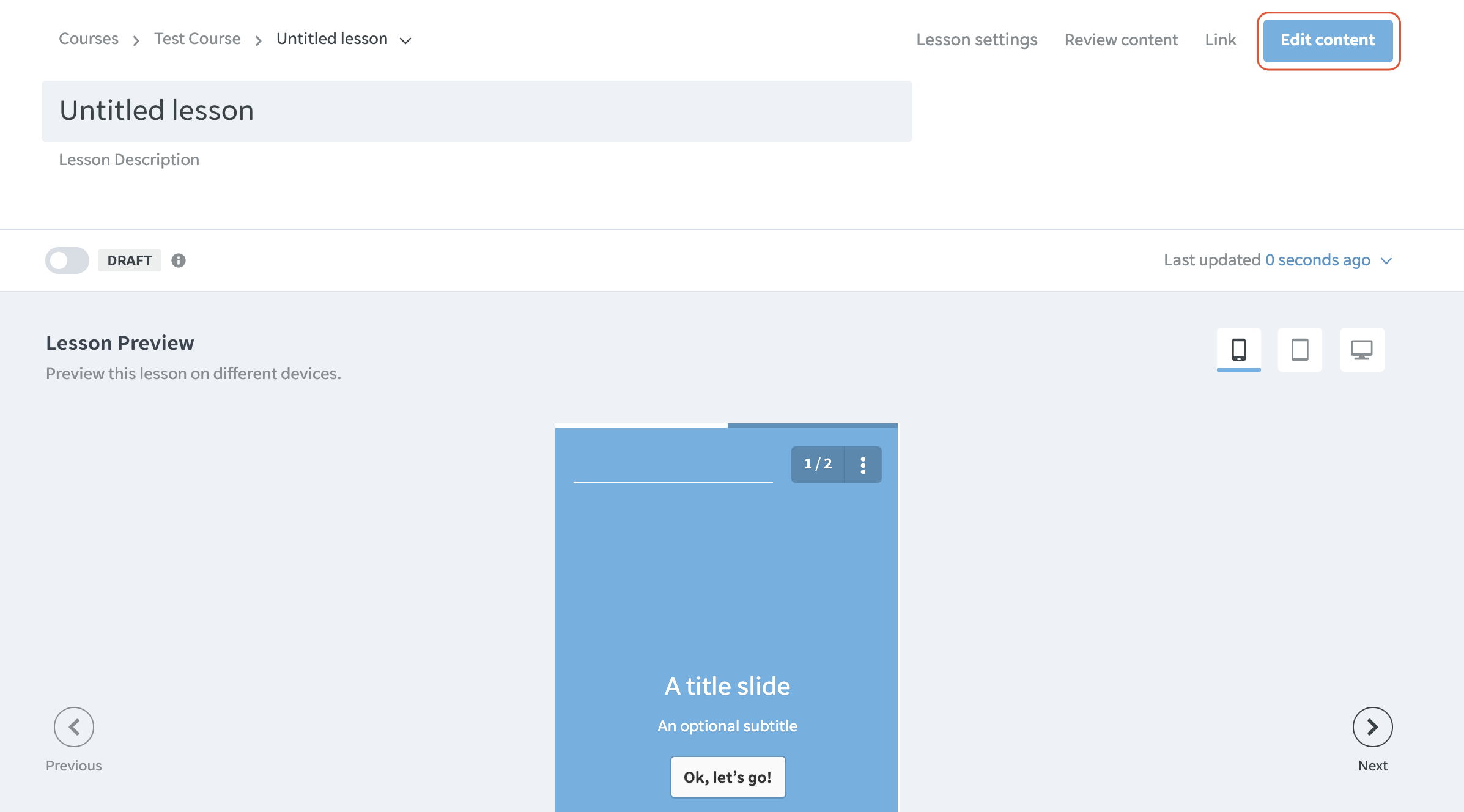 Authoring Tool
The authoring tool has three sections to it (from left to right in screenshot).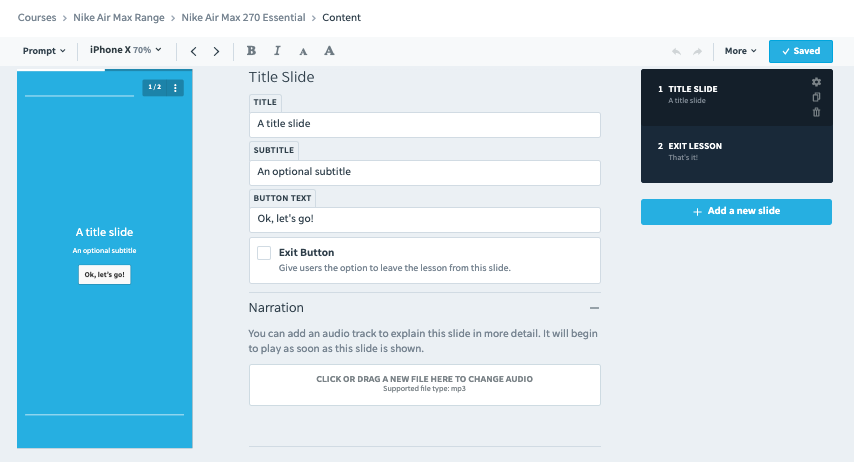 1. Preview panel shows what the user would be seeing on their app for the template that is being edited. It changes in real-time as the Admin updates the content panel.
2. Content panel is where authors edit the content of templates. They can add text and multiple media types. Most templates are completely customisable and give admins the flexibility to create all kinds of content!
3. Template panel is where authors can rearrange/delete templates and add new ones to their lesson.
Once you click save on your content, if the lesson/course is published then it will update instantaneously for your assigned learners
Adding a New Slide
Now we have covered the areas of the authoring tool, we can start adding content to our lesson.
Step 1: Click 'add a new slide'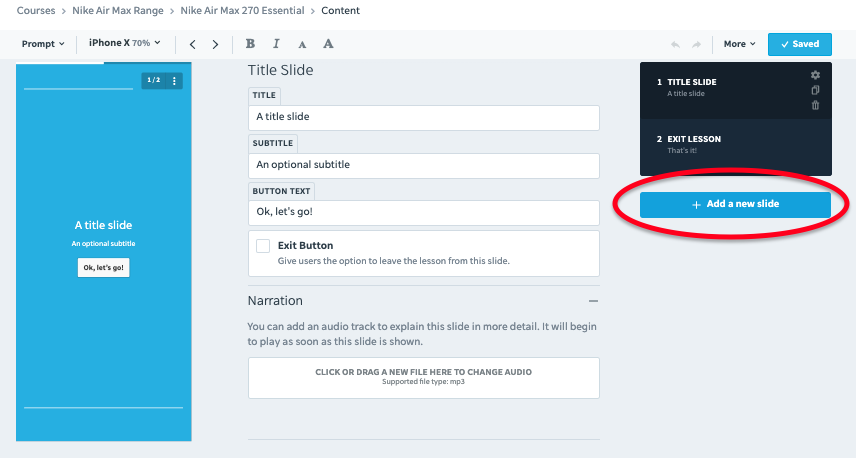 Step 2: Choose the template you want to use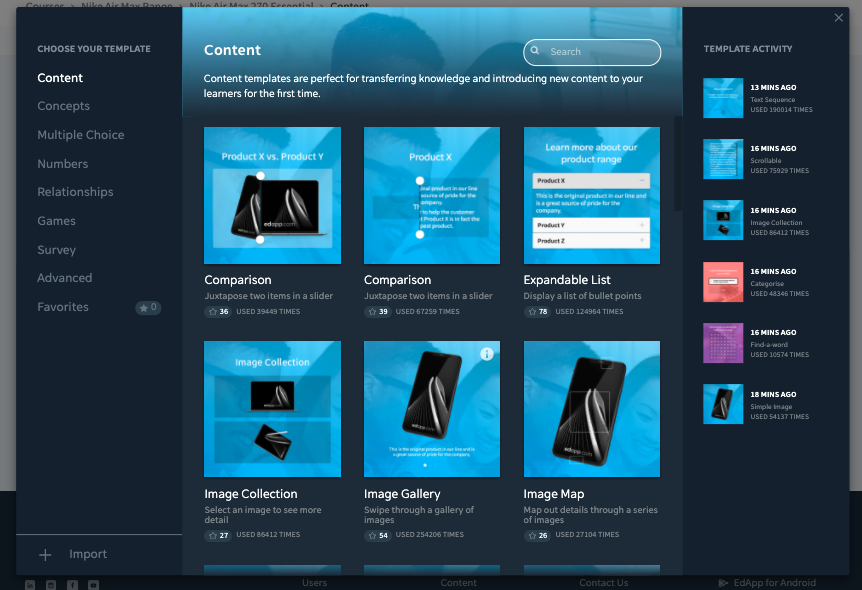 We have 8 categories of template slides.
1. Content templates are perfect for transferring knowledge and introducing new content to your learners for the first time.
2. Concept templates reinforce singular concepts by having your learners recreate and filter statements.
3. Multiple choice templates reinforce key concepts by having learners identify the correct answer from a pool of options.
4. Number templates ask number-based questions with templates designed from the ground up for numerical reinforcement.
5. Relationship templates reinforce the connections between related concepts with relationship templates.
6. Games templates deliver rapid-fire questions about any subject to reinforce concepts for learners.
7. Survey templates gather feedback from learners about your lessons. Have them add ratings or offer suggestions for future lessons.
8. Advanced templates allow you to take your lessons further by unlocking advanced features for presenting your content.
For more information on the templates we provide, please visit this section of the support site.
We recommend using an interactive slide every 2-3 content slides to test learners knowledge and add gamification
Step 3: Add all your content that is relevant for your lesson, as well as your interactive slides
Make sure that you use a good range of media like images, gifs and videos in order to keep the learner engaged.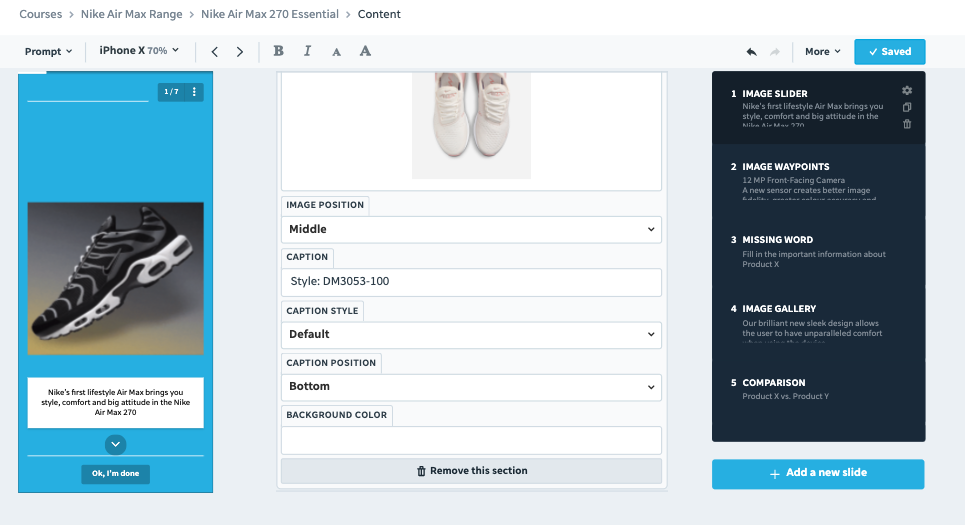 Once you have added all the content in your lesson, it's time to add the finishing touches!
Branding Content
Brand your content in order to have it fit with your style guidelines. This is all done in the 'branding' tab of the course.
Step 1. Go back to your course and click on the 'course settings' and then the 'branding' tab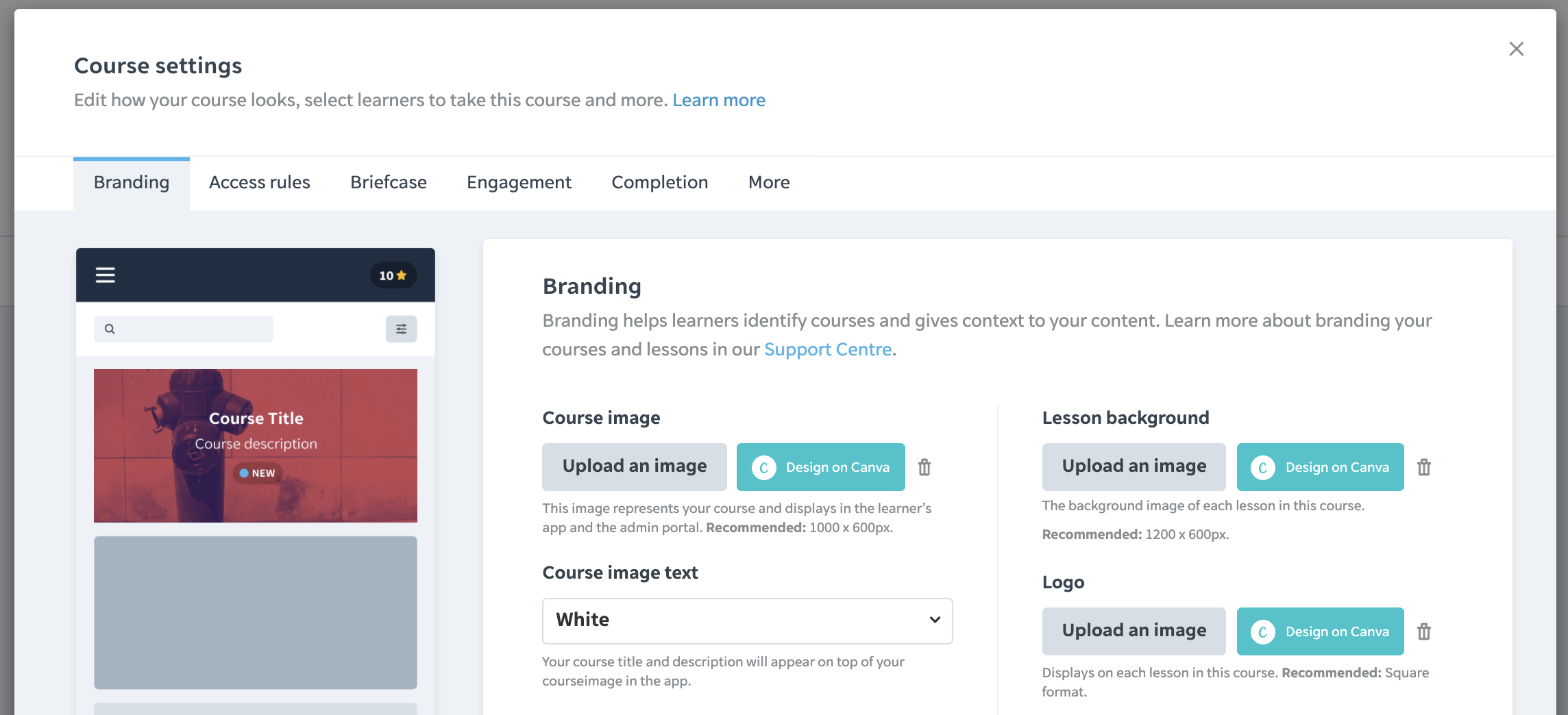 Step 2: Add a course image, background and logo
You can brand on a course level (the same branding applies to all lessons in that course) or you can brand individual lessons.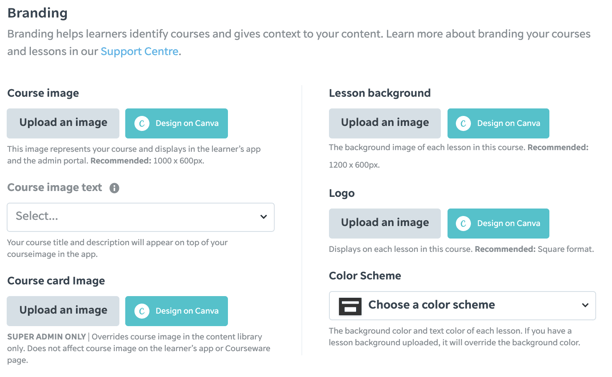 The Course Image appears as a tile on the user's screen when they click into the course. Ensure that this image isn't too busy to make the course title and description easier to read. You can also change the cover image text colour, depending on how light or dark your image is.
The Lesson Background will be the background of all templates. Ensure that this image isn't too busy to make the content text legible. You can also change the cover image text colour, depending on how light or dark your image is.
The Logo appears in the top left of the screen for users throughout lessons. We recommend using a square logo with a transparent background.
Now you are all done, you can invite learners to your account via email invitation or invite code and publish your course.