Our state-of-the-art authoring tool gives Admins and authors the capability to produce exceptional microlearning content.
The platform has already been created to support a wide range of templates that are super user friendly and interactive. This makes it quick and easy for admins and authors to create new lessons in minutes!
The authoring tool has three sections to it (from left to right in screenshot).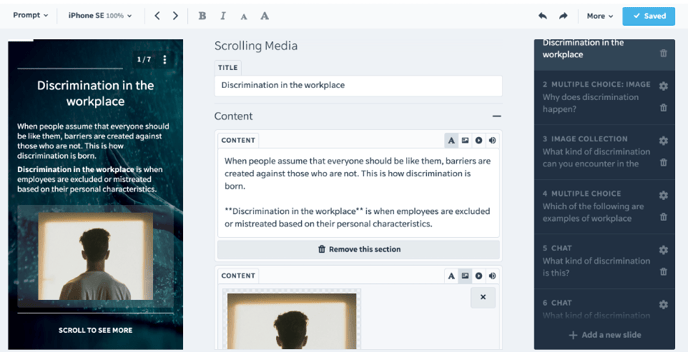 1.Preview panel shows what the user would be seeing on their app for the template that is being edited. It changes in real time as the Admin updates the content panel.
2.Content panel is where Admins can edit the content of templates. They can add text and multiple media types. Most templates are completely customisable and give admins the flexibility to create all kinds of content!
3.Template panel is where Admins can rearrange/ delete templates and add new ones to their lesson.
Any changes made by Admins are instantaneously updated on all user's apps next time they login to the app and are connected to the internet.
We have 8 categories of template slides.
1.Content templates are perfect for transferring knowledge and introducing new content to your learners for the first time.
2.Concept templates reinforce singular concepts by having your learners recreate and filter statements.
3.Multiple choice templates reinforce key concepts by having learners identify the correct answer from a pool of options.
4.Number templates ask number-based questions with templates designed from the ground up for numerical reinforcement.
5.Relationship templates reinforce the connections between related concepts with relationship templates.
6.Games templates deliver rapid-fire questions about any subject to reinforce concepts for learners.
7.Survey templates gather feedback from learners about your lessons. Have them add ratings or offer suggestions for future lessons.
8.Advanced templates allow you to take your lessons further by unlocking advanced features for presenting your content.
For more information on the templates we provide please visit https://www.edapp.com/rapid-authoring/template-library/